August 10, 2011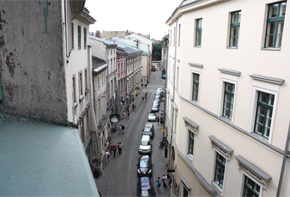 Last month my husband and I went to the beach for eight days. It seemed so ridiculously luxurious, the two of us escaping for that long with absolutely nothing on the agenda except to arrive back in Atlanta tanned, relaxed, and holding the key to the perfect margarita recipe.
Besides basking for over a week in great conversation (seriously, we might've solved the debt crisis—at least in our own household), fabulous food (raw oysters and chocolate croissants, I could eat you every day), long beach walks (stumbling upon Stephen King's dwelling on Casey Key was a nice surprise, the spooky guy in the Sea Oats scaring the you-know-what-out-of-us … not so much), and catching up on stacks of books and magazines both of us had been meaning to read, we didn't do a thing. There was one final kicker—neither of us worked!
In the three years I've owned danapop, LLC, that's never happened. Like most folks who run a small company, you answer phone calls at unexpected times and work when it's required. But, coming home after that holiday from my everyday life, I'm not exaggerating when I say I feel like an entirely new person.
It got me thinking about those pieces of travel you take back with you once you return to your own bed. We all escape ourselves a bit when we leave the confines of our structured life. Allowing the day to be as it is, it's just not something that can happen with bills to be paid, dinner to be cooked, and weekly conference calls awaiting a dial in.
But it's beyond just a feeling while you're there. Most of us have those tokens we take with us when we leave, like we're trying to savor the trip just a little bit more. When I travel, I buy an ornament from wherever I am that gets mixed on our Christmas tree with the matching (ahem, prettier) decorations. Every year, when I hang the little ribbon around the Rasta man-piece shaped like a wreath with the words "no problem" written on the side, it makes me smile and remember our zero cares in Ocho Rios.
And as one that's ruled by her belly, those pieces of travel we carry with us for certain can come in the form of a great meal. Some of the best food I eat is when I travel. And that's where most of my memories about a place are conjured up … a recollection of what happened around a table. Or, not to sound too much like Anthony Bourdain, what happened around something woofed down around 2 a.m. while slurring my speech in another country.
From the best sausage of my life post-Temple bar revelry in Dublin, to a kebab in Krakow that to this day makes me visualize manna falling from the sky (but perhaps that's just because it was the only thing that could shake my husband's killer hangover and allowed him to talk for the first time at 5 p.m. that day), to the frozen treat sandwiches in Costa Rica that still have me wondering how the cookie part remained soft—not soggy—when filled with ice cream, to that very specific blend of jerk seasoning no one else on the planet can get as good as what I've tasted in Jamaica. Or the traditional German meal eaten in Dusseldorf complete with beer refills that were based on the honor system.
But, sometimes it comes in other forms. My twin sister brought back some of the most gorgeous textiles from her four-month fellowship in China. I still can't decide if the fabric should be filled as pillows or framed as art. The oversized wooden fork and spoon serving pieces that we use so often from a tiny shop on the way to the cloud forest in Monteverde, Costa Rica. Or the jewelry we bought my mom while in Poland—a lovely amber ring handmade by a Krakow-based designer using the jewel native to the region. I have a Kelly green blouse I get compliments on each time I wear it, and I love telling people I got it in the sweetest boutique in Vancouver. The bangles I wear almost every day are from the French market in New Orleans for $1 per bangle (such a steal!), and I think of that trip when I hear them jangle on my wrist.
I love how much stepping away enriches the life one has at home. Whether it's in the attitude upon return, or maybe it's in the pieces collected along the way. It makes me want to carve that space out for exploring just to see what I come back with.