February 20, 2009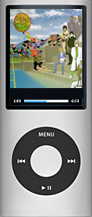 Pop life. Everybody needs a thrill. Pop life. We all got a space to fill.
This is my space to fill and I can't help but fill some of it with music.  After I chose the name danapop I kept coming across songs with the word "pop" in the title or lyrics.  One day while brainstorming with my graphic designer (the fabulous Kristen Alden) when the site was still in its peanut of an idea phase that morphed into the idea for a pop playlist. A few of these songs' lyrics made it to the site's sidebar menu, but so many others that I love didn't survive the necessary design cut.
So now that we're up and running, here's the extended playlist for you to enjoy – a token of my affection and appreciation for the fabulous readers and those in my life who've supported every step of this crazy mess of a concept. So, pop your collar, pop the champagne, and just keep it poppin'.
•    The New Style by Beastie Boys (Let me clear my throat – Kick it over here baby pop. And let all the fly skimmies, feel the beat…mmm drop).
•    Bubble Pop Electric by Gwen Stefani (Gonna speed it down and slow it up in the back seat – bubble pop electric).
•    Blue Eyed Pop by Sugarcubes (This blue eyed pop, it's just fabulous. To go twisting, boogieing in beat with the thousand pound, snare sound).
•    Hellzapoppin by Louis Armstrong (There's no stoppin'…hellzapoppin'…why not drop in).
•    Washing Machine by Sonic Youth (yeah, I take my baby down to the street and I buy him a soda-pop he's so sweet).

•    The Other Side of Summer by Elvis Costello (Was it a millionaire who said imagine no possessions? A poor little schoolboy who said we don't need no lessons? The rabid rebel dogs ransack the shampoo shop. The pop princess is downtown shooting up. And if that goddess is fit for burning. The sun will struggle up the world will still keep turning).
•    Pop Star by Cat Stevens (Yes I'm going to be a pop star. Oh mama, mama see me, mama, mama see me. I'm a pop star).

•    Hello it's Me by Lou Reed (Pop goes pop artist, the headline said. Is shooting a put-on, is Warhol really dead?).
•    Pop Juice by Gomez (Keep breathin' it'll come back again. Tonight will be different, we will all be saved).
•  Pop is Dead by Radiohead (Oh no, pop is dead, long live pop, one final lot of coke to jack him off…).
•    Pop in G by Heatmiser (Mic city sons seem to dumb everything down. I got wished a lot of luck. And I'll tell you what it's worth now).
•   Wake up Wendy by Elton John (Zap me into cinders. Pop the thermal mumbo jumbo. Melt me with your little fingers).
•    Skeletons by Stevie Wonder (It's gettin' ready to drop. It's gettin' ready to shock. Somebody done turned up the heater.
An'a it's gettin' ready to pop).
•    Houseboy by Juliana Hatfield (Could you go to the grocery store? I need pop tarts and orange soda. You can drive the Mercedes. If you say pretty please).

•    I Love Your Lovin' Ways by Nina Simone (The way you pop it up makes me go for this. Because it makes me feel I'm the only one you need, yes, you need).
•    Pop Singer by John Mellencamp (Never wanted to be no pop singer. Never wanted to write no pop songs).
•    Pop Goes the Weasel Author Unknown (Up and down the City road, in and out the Eagle, that's the way the money goes, Pop! goes the weasel).
•    I Want to be a Popstar by Jamie Cullum (Told what to do, miming to a tape. While a team of experts make sure you're looking great. Taking a limo to your own private bar. My God! I want to be a popstar!).
•    A Love So Fine by Bruce Springsteen (The rat's traps are filled with soul crusaders. Everybody's popping and hopping and jumping).
•    Try, Try, Try by Smashing Pumpkins (Pop tart what's our mission. Do we know but never listen).
•    She's a Jar by Wilco (She's a jar with a heavy lid. My pop quiz kid a sleepy kisser. A pretty war with feelings hid. She begs me not to miss her).
•    The Tra La La Song by Liz Phair (Four banana, three banana, two banana, one. All bananas playing in the bright warm sun. Flippin' like a pancake, poppin' like a cork. Fleagle, bingo, drooper an' snork).
•    An Audience with Mr. Nice by Stereophonics (I was five minutes late I had to pop by the gates. I stood at the side and I listened and I tried to imagine a life that gave him that smile).
•    Rapture by Blondie (Face to face sadly solitude and it's finger popping twenty four hour shopping in Rapture).
•    Mudfootball by Jack Johnson (Kakua on the ball and soda pop well…we used to laugh a lot, but only because we thought that everything good always would remain).
•    Pop Queen by Ben Lee (You're the ultimate pop queen you know what I mean).
•    Pop Trash Movie by Duran Duran (I'm living in a pop trash movie. We star together in every scene. We'll all be famous for just a few minutes. Part of a celluloid dream).
•    Do you Like my New Car? by Frank Zappa (We never met a pop star from Hollywood…).
•    Soul Suckin Jerk by Beck (Got a job making money for the man throwing chicken in the bucket with the soda pop can).
•  Pop Quiz by Stereolab (Ways of doing and work. Definition of truth. Sexual regulations. Language allowed / forbidden. With enthusiasm dying. For your country. The imaginary, is bounding reality. There's no need to pretend. We don't know when we do. Individuality, apart from society, is a big fallacy).
•    Fear of Pop by Ben Folds Five (I'm kinda ugly you're gonna look you're free to run, but here's a book. Fear of pop).

•    Wonderful Night by Fatboy Slim (That the spot will get hot. That it's ready to pop. Don't even look at the clock).
•    Soda Pop by John Fogerty (Soda pop, soda pop, everybody wants to make it to the top).
•    Imitation of Life by REM (Charades, pop skill water hyacinth, named by a poet. Imitation of life).
•    On the Good Ship Lollipop by Shirley Temple (On the good ship lollipop. It's a sweet trip to the candy shop. Where bon-bons play. One the sunny beach of Peppermint Bay).
•    Pop Life by Prince & the Revolution (Pop life. Everybody needs a thrill. Pop life. We all got a space to fill).