July 4, 2012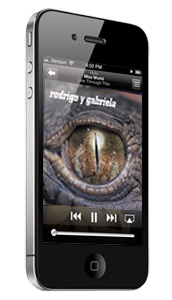 My husband and I often travel to Florida and Ohio for vacations and holidays, so we're pretty used to making those almost 7-hour trips. Last month, we decided that in conjunction with me being on assignment for MSN to cover Bonnaroo and since it coordinated (almost perfectly) with a planned bi-annual family vacation in Michigan, we would drive the whole thing (all 14 hours of it). We road-tripped from Georgia to Michigan with one shut down highway, countless bathroom stops, loads of conversation, one horrific avocado experience on a sandwich, and sadly, zero Chick-Fil-A. (Why is it I always want it on a Sunday?)
Boy I wish I would've created a decent playlist before we left. But, because I didn't, I can now fill it with amazing bands I heard at the festival mixed with loads of my other favorites … score. Here's the summer road trip playlist for 2012, ready for a listen throughout the holiday week.
Ritual Union by Little Dragon (They were all the talk at Bonnaroo. I, unfortunately, did not see their performance, but will certainly try to catch them if they pass through Atlanta. You should too.)
What I Can Do for You by the Czars (One of my yoga instructors loves to play this one during class. It's an incredible feeling to be in a challenging pose with the lyrics, "Are you angry 'cause you're not doing what you want to do? I understand that, 'cause that's the way that I am feeling too," blasting throughout the room. Powerful stuff.)
Islands in the Stream by Dolly Parton and Kenny Rogers (Did you know Kenny Rogers is 73? Little known fact. And while his face is totally wrecked from plastic surgery, he still can wow a crowd. Seriously, I've never seen so many middle-aged women elbowing their way up front.)
Ho Hey by the Lumineers (This song just screams for a trek into the unknown with the windows down.)
We Are Young by Fun featuring Janelle Monáe (Keep the windows down for this one as well.)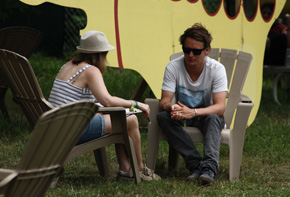 Only Love by Ben Howard (I fully admit I have a slight crush on Ben Howard. My husband snapped this photo while I was gushing through questions for him to answer with his magnificent British accent. He was charming, even hungover.)
More Life in a Tramps Vest by Stereophonics (It's not a danapop playlist without Kelly Jones making an appearance.)
Awake my Soul by Mumford and Sons (Apparently Mumford's 2010 Bonnaroo performance was so memorable the story got picked up by NPR.)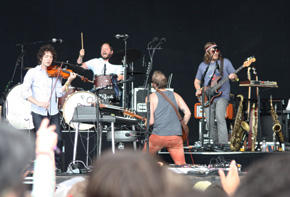 Towers by Bon Iver (One of my favorite performances of the festival. Man, these fellas can rock it. However, I wish someone would tell them that when you get to be as big as they are you don't actually have to break down your own equipment when your set is over. Geez, don't you pay people to do that? You have two Grammy's for goodness sake.)
Good Vibrations by The Beach Boys (I'd be lying if I said the Beach Boys sounded like they used to. The backup band helped a lot in this case, though it was very cool to see everyone reunited on stage, including the ultra-reclusive Brian Wilson.)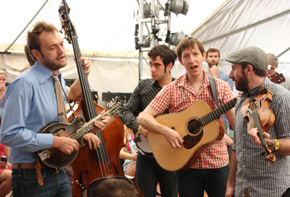 Who's Feeling Young Now by Punch Brothers (The little kangaroo in my belly LOVED this private set by the Punch Brothers. Is it just me or could the lead singer on the far left double for Jude Law?)
So What'cha Want by the Beastie Boys (Still sad about MCA. Does it get much better than the lyric of "Sweeter than a cherry pie with Ready Whip topping"? I think not.)
Disparate Youth by Santigold (This is one artist I'd never heard of pre-fest, but am so glad I got to see perform live. She KILLED it.)
Hold On by Alabama Shakes (This band is about to BLOW up, and the lead singer brings it on stage.)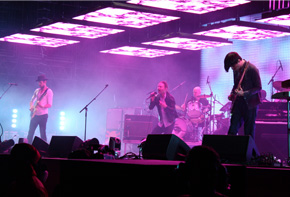 Idioteque by Radiohead (One of my favorite songs by Radiohead. This one is unbelievable live and I'm not one to argue with perfection. Thom Yorke dropped a hell of a tease by alluding to a collaboration between him and Jack White.)
Brown Sugar by D'Angelo (D'Angelo ventured out from the rock he'd been hiding under for the first time in 12 years giving a middle of the night performance at the 'Roo. Rumor has it there was a pile of cocaine and a sack full of Big Macs under the aforementioned rock, hence the delayed returned to the spotlight.)
This Time I Know It's Real by Donna Summer (It's not summer without the Donna. The music lives on.)
It Goes On and On by the Avett Brothers (I was so sad to miss them live. Also sad that I couldn't bring the short one home with me per my friend's request.)
Stone Cold Yesterday by the Connells (This is a band that was a favorite of mine in high school and college. It makes me think of my sisters and trips I've taken with them.)
A Song for the Lovers by Richard Ashcroft (A little solo project to slow things down.
Setting Fourth by Eddie Vedder (The entire "Into the Wild" soundtrack screams get in the car and drive.)
Diablo Rojo by Rodrigo y Gabriela (Talk about amazing live. Forget Britney and Justin Bieber folks, this is REAL music. I don't know how their fingers keep up with their guitars.)
Mayfly by Belle and Sebastian (This song reminds me of summer flings, and like any good music festival, Bonnaroo appeared to have its fair share of bad decisions in the dating department.)
Back in Atlanta by the Constellations (While I love a good road trip, it feels amazing to be home.)