October 20, 2009
The simple story behind Santa Cruz (situated on the Monterey Bay) is this–in the 1960s the counterculture boom made things in San Fran a bit too crowded, so the intellectual crowd headed South, to Santa Cruz. So, the answer is yes, Dionne Warwick, they do know the way to San Jose (that's the nearest major city in proximity to SC), a.k.a. Silicon Valley.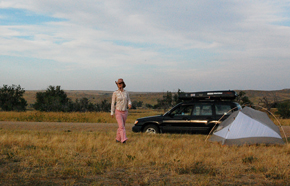 My twin sister's favorite book is John Steinbeck's Travels with Charley. It's pretty fitting because she's a journey seeker, and the whole book is an account of Steinbeck's road trip with his standard poodle named Charley. So when she moved to Santa Cruz, California from Baltimore, Maryland this summer, she actually did what so many of us (me, me, me) dream about doing–taking weeks to travel to her new home. She visited friends and family along the way stopping and enjoying the drive as much as the destination. Even camped solo (so brave) in some of the most inspiring places in North America. One early morning before dawn in the Badlands, she woke up to a bison stampede … beats an alarm clock any day.
Now that she is settled in SC, my older sister and I met up with my twin for a bit of a girly get-away. We've all been busy this year. My older sister has a big-wig job, a husband who travels for his job, and two kiddos under the age of four. My twin just uprooted her life (new job, said new town, and end of an 8-year relationship), and me–I've been a bit buried in both work and worry lately, so it was due time to whip out the mascara and skinny jeans. But, really, more like cut-offs and tank tops, as that's more the way they roll…
The point in my story about my twin's travels to get to Santa Cruz is that  that's pretty much what we did there. We stopped and took a moment to digest it all. We visited with friends and family, saw some of the prettiest places in Nor Cal, and just slowed down. If you ever need a little (or a lot of) space to clear your head–Santa Cruz squarely fits the bill. Here's a bit about our trip, and my favorite spots along the way. This week, the pop on Eddie Vedder's muse–Santa Cruz.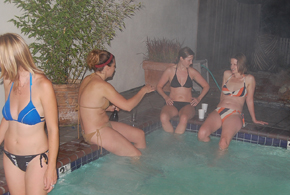 Stay
If you want a true retreat, stay where we stayed (part of the time–the other part was at my sister's place) at the Chaminade. It's a fabulous resort, filled with plush accommodations and amenities (hiking trails, hot tubs, yoga and pilates studios, spa services). All included in the rate, which works out to be fantastic for the budget. I'm still feeling a little guilty for the poor couple's luck that had grandma watching their five kids and were expecting some alone time in the hot tub and got us sisters and some rowdy friends guzzling wine. We were nice enough to share the wine and chat it up.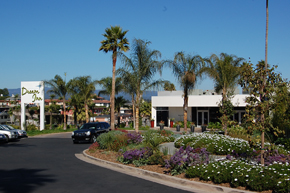 For a more authentic Santa Cruz vibe, go with the newly restored Dream Inn, located very near the boardwalk. It's heaven and a nice wink and nod to the '50s surf era (think Woody's and longboards) and has a really cool floor that looks like sand.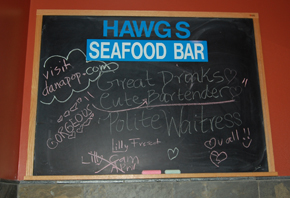 Eat
Hawgs Seafood Bar is where to go for authentic, no frills, fresh California seafood. Not pretentious at all and they dug my marketing plan of Hogs (motorcycles) for Hawgs idea … too bad they already offer specials on Sundays for the biker crowd. Ah, that's what happens to me after two cocktails called the Bellevue (hendrick's gin, English cucumber, domaine de canton ginger liqueur) I get all sorts of marketing schemes…
For brunch, Café Brazil is a must. It'll fill you up until dinner as their portions are huge, but it's all very healthy, so dig in.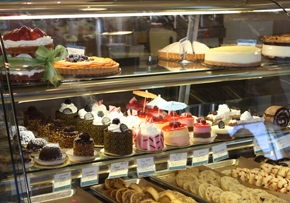 Kelly's French Bakery has fabulous baked goods (desserts, muffins, and my favorite, its take on the almond croissant–the Prince).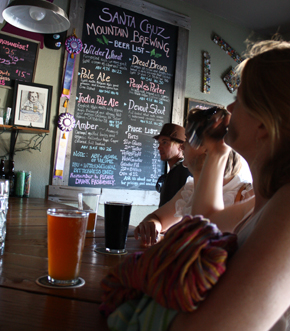 For a great pint, head to Santa Cruz Mountain Brewery–oh and no shirt, no shoes will get you service. Lots of locals like this spot for it's relaxed feel. Get a space on the couch and play Jenga to your heart's content.
Shogun is the best sushi spot in town. Try the Santa Cruz roll, it's got great flavor with a spicy kick.
Do
Santa Cruz in itself is a bit of a dichotomy, on one hand they like to take things on the slow side (on our trip my older sister got frustrated at a woman staring at a bird for–and I'm cleaning it up for her children's sake– 'effing hours' while drinking tea out of a ceramic cup) but on the other, these folks are doers and hustlers … my sister's roommate alone has at best count 4 successful businesses being run out of her little collective on Younglove Avenue.
I put this bit in the "do" category because just go out and do in Santa Cruz. Bike, stroll, wander … that's what it's all about. Never have I seen such wide bike lanes and so many folks riding on wheels–skateboards, roller skates (derby) and bicycles (my favorite were seeing the kids riding bikes while holding surfboards … talk about balancing talent).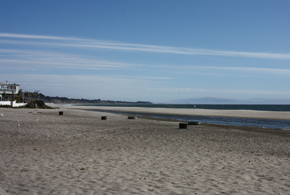 You cannot visit the California coast without dipping your toes in some water and crunching through sand. The beaches are vast and gorgeous … I didn't meet one I didn't like. But, my favorite is my sister's choice, Rio del Mar. It's relaxed and calm, just like the town.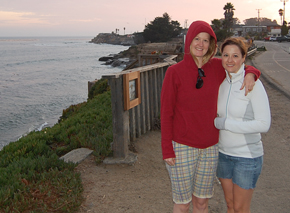 The Santa Cruz moral comes in Aesop fable form (The Wolf in Sheep's Clothing). Basically, that guy riding a skateboard as a mode of transportation wearing cargo shorts and a graphic t-shirt most likely invented something that he recently sold for a mint–that's so Santa Cruz. Eddie Vedder says it best in his great eponymous track:
I need the beach to set me free
I need the wind to make me breathe
I need the water to wash my soul
I need my love ones to let me go
I can feel them lifting up my blues
I can see a white horizon blue
Got the feeling that I just can't lose
Rolling into Santa Cruz