November 26, 2008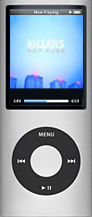 I'm running a half marathon in February. I signed on for the race partly because it's something I've always wanted to do and also because it'll hopefully curb my tendency of eating and drinking my way through the holidays.
I've found with the training, the iPod playlist is crucial. Working out is one of the rare times I adore pop music. But, with running I need a bit of pop, plus motivation – so, here is a running list, filled with an equal mix of boys I find sexy (lead singer of The Killers) plus pop tart girls that have the tummy I'm striving for (pre-Federline Britney), a dash of pissed off angst (any tune that makes me think of images of things breaking or people marching in protest), and the old stuff that reminds me of my family (the John Lennon, Mick Jaggar, Elton John trifecta).
Float On

by Modest Mouse (I sometimes like songs I can kinda tune out and this one does just that – it's motivating enough, but reminds me of college days of sitting around drinking way too much and eating way too much, hence why I have to run now.)
Talkin' Bout A Revolution

by Tracy Chapman (It's fair to say Tracy Chapman is pretty pissed off in this song, but I do love it when she belts, "Don't you know you better run, run, run…")
Keep On Running

by Stevie Wonder (It's pretty easy really, foot in front of foot – just keep going.)
How Far We've Come

by Matchbox Twenty (I have a secret obsession with Rob Thomas – okay, maybe not so secret anymore, and basically, well, I'd run anywhere to this tune…it just makes you want to get off the couch.)
So Hard

by Dixie Chicks (It is hard…running, working out and sticking with it. But, likely not the hardest thing you'll do in a day.)
Runnin' Down A Dream

by Tom Petty & The Heartbreakers (Chase it. Whatever your it is.)
Let's Get It Started

by Black Eyed Peas (If Fergie can work so hard on stage that she wets her pants, surely we all can be a little more active.)
What You Waiting For?

By Gwen Stefani(A bit of the competitive nature in me, by all means, don't hold back…if you need to speed it up, do – same goes for slowing down.)
Revolution

by The Beatles (Nike had one of the best advertising campaigns of all times with this Beatles tune – sell out? Never.)
Clark Gable

by The Postal service (I often wonder what sorts of activities people in the Clark Gable era did for exercise…cocktail shaking? Cigarette lighting? Oh wait they had WWI, WWII, and the Great Depression – I'm a jerk.)
They're On To Me

by Ari Hest(I hate it when people pass me near the finish of a race…if you think someone is about to pass you, chances are they are breathing down your neck, just waiting to take off – dig deep.)
Stronger

by Britney Spears (It goes without saying this was the height of her career. Things can change (both good and bad) in a short amount of time. Make the most of it.)
Ray Of Light

by Madonna (I often think if Madonna at 50 can work out daily for hours, I can run a few miles. But, the whole time I'm hoping I can avoid doing whatever exercises she does to make her arm veins look all creepy – bleh.)
Somebody Told Me

by The Killers (I like the confusing parts of this song it's like wait – he told her who told you who told what? By the time you have it all sorted out the song is over and you're halfway home.)
Meet You There

by Augustana (This catchy tune is one worth putting on repeat.)
Crystal Village

by Pete Yorn (I like picturing things when I run and can get lost with the thought of a someone whisking me away to a cute little crystal village.)
Pocketful Of Sunshine

by Natasha Bedingfield (Such a nice thought. The mind/body balance for me is a little ray of sunshine for sure.)
Don't Cha

by The Pussycat Dolls (My old pilates instructor used to blare this song – ironically I found it really annoying, but gave me incentive to work a little harder in spite of society's failed attempt to make women feel horrible about themselves when they don't look like Nicole Scherzinger.)
Running On Empty by Jackson Browne (This song plays during one best running scenes in a movie. That part of Forrest Gump

has such great beauty shots.)
(Sittin' On The) Dock Of The Bay

by Otis Redding (Sometimes I just like to picture a nice place in my head…this song helps conjure up that image of sitting and starring out at the water. Plus, our puppy is named after him – he will be a great running partner once he figures out pacing.)
Walk Unafraid

by REM (In life, much like a race, we all trip and fall, it's the getting back up that is important.)
Not Ready To Make Nice

by Dixie Chicks (The slow/beginning part of this song is tough, but, by the middle it is just mad enough to make you want to grit your teeth up that hill or put the treadmill on for another mile.)
One Of The Boys

by Katy Perry (At just 24, Perry has the music industry all figured out – she really does know how to deliver songs that stick in your head all day…this one is fantastic and makes me think of getting ready for a fun night out.)
Take Back The City

by Snow Patrol(One thing I love to do when I travel is to explore the city on foot, going for a run is a great way to check out restaurants, boutiques, museums and make a mental list of things you want to head back to once you're all showered and changed.)
Every You Every Me by Placebo (This scene in Cruel Intentions

made Ryan Phillippe's career…such a fantastic song.)
Let's Go Crazy

by Prince & The Revolution (Don't let the elevator bring you down – take the stairs.)
Praise Be

by Angie Aparo (Militant sounding is an understatement with this one – it just makes you want to scream "Yes, sir!" followed by a salute.)
So What

by Pink (Pink really does have a way of sounding so angry and like you really don't want to find her waiting for you in a dark alley because basically she might beat you up.)
Last Of The Big Time Drinkers

by Stereophonics(I enjoy good food too much for all the fad diet silliness. Instead I workout. Now I'm not saying, this gives me the hall pass to eat shrimp po'boys washed down with microbrews every night, but I do think most days I earn my glass of wine with dinner.)
Soak Up The Sun

by Sheryl Crow (One word – bikini.)
Lazy Eye

by Silversun Pickups (We can all think of every excuse in the book to be lazy…just get up. You'll be happy you did.)
Philadelphia Freedom

by Elton John (Philly/Rocky – come on. Do I have to spell everything out?)
Why Does It Always Rain On Me?

by Travis (For all those mornings when you REALLY don't want to get out of bed.)
When It Started

by The Strokes (I find before and after photos are a good motivator to actually get started. Plain hard facts…pictures don't lie.)
Shut Up And Let Me Go

by The Ting Tings (The beat on this one is perfect for a running rhythm.)
Sex On Fire

by Kings of Leon (Both sex and exercise release endorphins…interesante.)
You're So Vain

by Carly Simon (The version with Mick Jaggar is best. I do think more than half of working out is for vanity's sake.)
Shattered

by O.A.R (Shatter the past – it doesn't matter how many times you've tried to do something and had it not work. It does get easier.You will get stronger.)
The Boy With The Arab Strap

by Belle & Sebastian (The lyrics, "the cell of your mind" and "posh isolation" are pretty fantastic – running is primarily a solo thing.)
Eye Of The Tiger

by Survivor (The ultimate 1980's motivator. Risin' up…)
Shuffle Your Feet

by Black Rebel Motorcycle Club (This song has a bit of a jam band/hippie vibe – I have to remind myself to look around an enjoy the scenery a bit on my runs.)
One Piece At A Time

by Johnny Cash(Start small – one stride at a time. If it's running around the block, build on that. Everyone starts somewhere.
Born To Run

by Bruce Springsteen (I tend to think most of us actually are born to run…it is one of the cheapest and oldest forms of exercise…all you need is a good pair of shoes and a bit of determination.)