December 16, 2008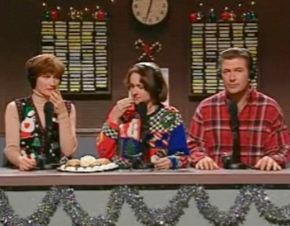 The Holiday Season is officially upon us. What goes better with all the tradition (whatever your beliefs) than lots and lots of sausage? Sure, sausage, why not?
Here are two of my favorite Holiday recipes that feature sausage. Chicken-Apple Sausage Strata with Spinach & Mushrooms and Sausage Balls. The Strata is perfect for a late Christmas morning brunch, and the Sausage Balls are just the thing to pass around while opening presents.
Both recipes are ridiculously easy. In fact, I cannot believe I'm posting a recipe that calls for Bisquick and only a mere two additional ingredients (meat, cheese and said Bisquick). But, my mother makes them every year for us to enjoy, and, well, you just can't monkey with tradition, especially when it comes from your momma. 
Chicken-Apple Sausage Strata with Spinach & Mushrooms
Adapted from In-Style Magazine
Serves 8 (VERY generous portions) 
2 tbsp olive oil

4 links (about ½ lb.) chicken-apple sausage, sliced

1 pkg. (10 oz.) white mushrooms, sliced

1 onion, chopped

1 pkg. (9 oz.) baby spinach

8 cups of day-old country bread or baguette, cut into 2" cubes, divided

2 cups shredded cheddar cheese, divided

1 bunch of scallions, chopped, divided

6 eggs

2 cups milk

Salt & pepper to taste
Spray 13" x 9 " glass baking dish with nonstick cooking spray. Heat olive oil in large skillet over medium-high heat. Add chicken sausage and cook until browned, about 5 minutes. Transfer from skillet to large bowl.
Add mushrooms and onion to skillet, cooking until mushrooms release liquid, 6-7 minutes. Add mixture to sausage in bowl. Add spinach to skillet and cook until wilted, 2-3 minutes. Add to bowl.
Place half the bread cubes in a single layer in prepared baking dish. Top with sausage-vegetable mixture. Sprinkle with 1 cup shredded cheese and scallions. Place rest of the bread cubes over cheese.
In a medium bowl whisk eggs and milk. Season with salt and pepper. Pour mixture over bread, pressing down on bread cubes to immerse in liquid. Cover with plastic wrap; refrigerate eight hours or overnight.
Heat oven to 350° F. Discard plastic wrap; bake strata for 50-55 minutes, or until top is slightly browned. During last 10 minutes, spread remaining cheese and scallions over strata. Let stand 10 minutes before cutting. Serve warm.
Sausage Balls
From my Momma 
2 ½ cups Bisquick mix

8 oz. finely shredded cheddar cheese

1 lb. mild sausage
Mix all ingredients (using clean hands on this one is the best way to incorporate). Roll into small balls. Place on ungreased cookie sheet. Bake at 350° F for 12-15 minutes. Makes about 2-dozen. Note – these can be made in advance and kept in freezer. And you can go a bit healthier by using low-fat or turkey sausage and multigrain or wheat flour mix.