November 15, 2012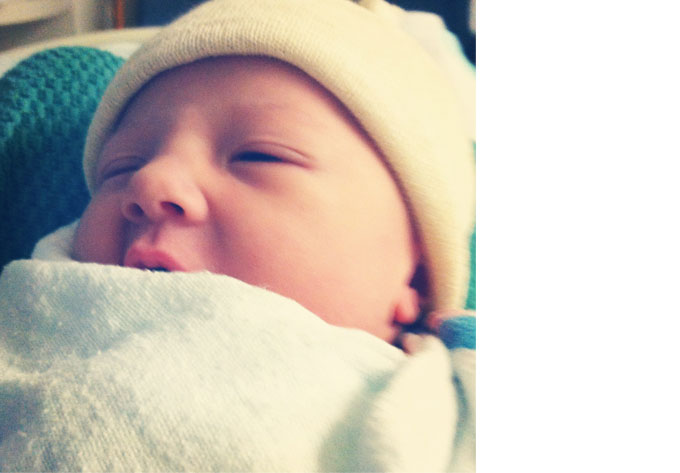 Little Miss Seith arrived and she's absolutely perfect. Dan and I brought our daughter, Margaret Ainsley Seith, into the world on my late maternal grandfather's birthday, November 8, with the help of our extraordinary doula, Kate, the incredible Dr. Knoer, and rockstar nurse, Lucy.
After trying every natural induction technique we'd heard (acupuncture, walking, sex, pedicure with a pressure point foot rub, spicy foods, eggplant) my water broke at 6 a.m. and our little girl arrived just about 12 hours later (three days after my due date). The birthing experience and seeing her for the first time was like nothing I could've ever prepared myself for, both emotionally and physically. Birthing her was no small feat and I joked during the process that if I was of the cave or pioneer times I'm pretty sure childbirth would've taken me out. Modern medicine mixed with natural elements were what worked for me. Eventually I'll write a whole post on my experience (as it was a very positive one), but that is for a later time. As soon as I saw Margaret I was so overwhelmed with emotion I broke down sobbing, repeating, "She's here." Not only that the birth was over, but also that we waited so long for this to happen. All three of us were crying. I will remember that moment for the rest of my life.
Margaret is a name both Dan and I liked early on in my pregnancy. The name is classic and sophisticated, yet can be shortened to be a bit more approachable. When naming her, I couldn't help but think of all the strong women called Margaret—Margaret Thatcher and Margaret Mitchell—to mention two. While I was pregnant we watched The Iron Lady and this line Thatcher is famous for saying clinched it for me:
It used to be about trying to do something. Now it's about trying to be someone.
My hope for our Margaret is to do something, not to try to be someone. Ainsley is a variation of the name Ann, after my twin sister. It's a Scottish name (which is where the maiden Hazels side of me is from) meaning Ann's meadow. We love it.
We're still trying to figure out if she'll settle into being a Mags or Maggie, but for now, she's Margaret and we're absolutely in awe that we made something so miraculous. We're all just getting to know each other and adjusting to our new normal. We're also in complete shock that we're responsible for something other than trying to get the dog to stop eating toilet paper, and we've done such an excellent job with that.
Thank you for all the sweet messages and words of encouragement through it all. Here's to the next adventure!