April 11, 2012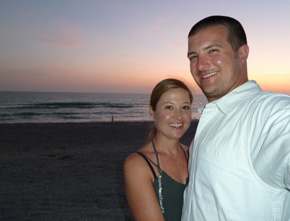 My first trip to Florida was when I was a sophomore in high school and went to visit a friend of mine whose family moved to Orlando. I have to say, Orlando is not exactly my favorite spot (quite the opposite, actually). The parking lot coming out of Disney World at 10 p.m. with kids that should've been fed and in bed hours prior kind of turned me off. But, once I met my husband, I realized the specialness Florida holds for him and his family. Thank goodness that place is not Orlando.
We go just about every season possible and the vibe of the area changes with the time of year. For instance, during spring break, it'll be flooded with snowbirds who call it home (one who once flipped me the bird because I inadvertently didn't come to a full stop for pedestrians who hadn't yet started walking across the street). To fall, when you'll likely have the whole beach to yourself (my favorite). We try to go in the summertime at least once, generally around July 4, because in my mind, there's nothing quite like seeing fireworks over the ocean. And we'll make up a big batch of something great to eat, like scallops with bacon and sweet corn on the grill, open a bottle wine, and it's my idea of perfection. It's filled the families like us, leisurely celebrating the holiday.
The area we go to is Siesta Key, about seven hours south of Atlanta, just off Sarasota overlooking the Gulf of Mexico. We're utterly spoiled when we go–we get to use my in-laws condo for our stay, which is such a generous treat. It feels just as much like going home as it does when we return to my husband's hometown of Cincinnati. Because of this, I cannot exactly recommend places to stay, but I can offer a ton on where to eat and what to do. Here are my recommendations of where to head while in stunning Siesta Key.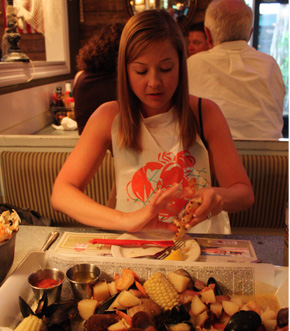 Eat
We haven't had many bad meals around Siesta Key, but there are handfuls of places we try to eat at least once during a visit. Owen's Fish Camp is my absolute favorite restaurant in Sarasota. It's in Burns Court, a fun district, the restaurant is charming but modern at the same time, and the food is just the best. I order something different every time I'm there, but its shrimp and grits are very tough to pass up. Though, as you can tell from this photo, the low country boil had me at hello.
Anna's Deli is an institution. I get the same sandwich every time–the Peddler–tuna salad with cukes and Swiss on pumpernickel. Plus, it has something called "Anna's Sauce" (which as best as I can gather is some sort of amped up thousand island dressing) that is addictive and must be added. It's really simple and so tasty. There are several locations, but we go to Anna's II on the island, and every time we go, my husband tells me the story about how he was standing in line at Anna's when the OKC bombing happened and he watched coverage on its television. Random anecdote, I know, but what can I say, we met while working in a cable network newsroom.
My husband's family has been going to Phillippi Creek since he was just out of diapers. And apparently once he had teeth he'd order the same meal each time–fried shrimp with French fries and a slice of key lime pie for dessert–my kind of guy! As adults, we both always order Maryland Spiced Shrimp. I also love their grouper, which is fresh from the Gulf. Beyond the food, Phillipi is the best sort of family spot complete with funny oyster shells outside for you to stick your head through for a photo op and paper towels for napkins on the table. It's so good at Phillippi that often we eat here more than once.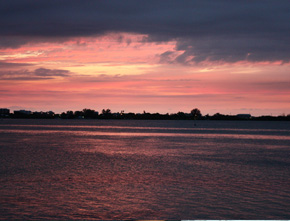 Do
Now, if there's water from the Gulf of Mexico in front of me and sand that feels like powdered sugar under my feet, I feel the need to do very little else. Seriously, its beaches are ranked best in the world, specifically, Siesta Public Beach. While we spend most of our time at Turtle Beach (since that's the beach adjacent to the condo), the public beach does have the best white sand and it's beautiful. Stake a spot early, it gets crowded fast. When you're over the beach scene, there are several places worth a wander.
The marina in downtown Sarasota is beautiful and worth it to drive through. There's the famous (and somewhat controversial) statue titled "Unconditional Surrender" which some residents call "tacky" and "hideous." I generally don't get that worked up over art, especially when it involves a sculpture depicting the famous Eisenstaedt photograph from Times Square. Explore the nearby grounds to see additional public art installations lining the outdoor space next to the water. Neighboring islands are fun to pop over to (St. Armand's Circle on Lido Key and Longboat Key both gorgeous and fun spots to check out). The Salvador Dalí Museum isn't too far away in nearby in St. Petersburg. And the Ringling School of Art and Design has great events showcasing student work. In the same vein, the Ringling Museum of Art has been on my list of dos for ages. For a true adventure, head to Myakka River State Park for an airboat ride with loads of alligator sightings. My nieces and nephews love Myakka when a break from the beach is needed. It likely goes without saying, but just in case, when in Florida, great golf courses are abundant. It means I lose my husband for a day, but he loves playing down here, so remember to pack the clubs.
Siesta Village is the shopping district on Siesta Key. Get ice cream and a box of saltwater taffy at Olaf. Also in the Village is our favorite coffee shop—Lélu Coffee Lounge, which helped me with Internet access for filing more stories and deadlines than I care to admit while on what was supposed to be a vacation. During the day it serves great coffee and awesome smoothies. By night, it switches to a fun cocktail lounge, just the kind you expect on a leisurely beach vacation. The staff is really cool, and there's a surf shop connected to the restaurant part, so you can sort of get lost for a bit in here. For shopping, I'm always lured into Beach Bazaar for all its swimsuits, sandals and surf wear. It's usually at this point that my husband is shaking the keys to the car at me and insisting I have enough swimsuits to last a lifetime at home.
Just writing this makes me eager to get back. I'm certain we will return soon enough. Do you have a special spot you revisit to again and again?