August 15, 2012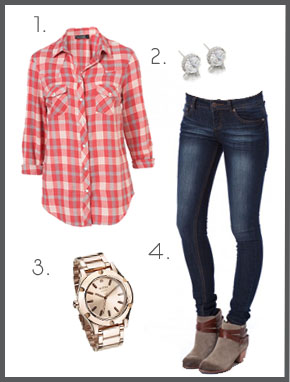 No, not change your personality, but your outfit. According to comedian and writer Mindy Kaling's fun read, Is Everyone Hanging Out Without Me? every male writer she's worked with puts their female characters in dark wash jeans and a button down. It's the girl-next-door fantasy outfit. The ensemble is approachable, but apparently still has a hint of sex appeal (just make sure the shirt is tapered for a fitted look).
After I read the book I started noticing the trend on television shows. Practically every sitcom character from Modern Family (Claire, not Gloria), to syndicated Friends episodes with Monica rocking some version of this, to Liz Lemon's dowdy version on 30 Rock, wears the common thread of jeans, a plaid button down, and classic jewelry. Who knew it was the guys dream attire for their future girlfriend?
Though, as simple as this outfit is, it's sometimes just as fun (maybe even more so) to hear what clothing guys hate courtesy of manrepeller.com.
1. Longsleeve Check Shirt, Topshop 2. Classic Caroline Studs, Swell Caroline 3. Camden Watch, Nixon 4. Denim Skinny in Heritage, Shop Sosie