March 28, 2012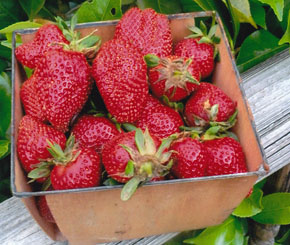 I know it's entirely too early to be posting something so seasonal as a dessert composed mostly of strawberry and rhubarb. But, I couldn't resist. Whenever the weather starts to turn warm (we've had some 80° days in succession already in Atlanta) I get a hankering for that tart and sweet concoction. I realize this dessert should be reserved for a hot summer day topped with vanilla ice cream that melts as soon as it hits the steamy surface, but I am impatient and wanted it now.
I was all set to make this a pie, but it's hard to justify the trouble required for just two people. If I were to go that route for a crowd, I'd try the crust recipe that was recently printed in the New York Times Magazine found here. Instead, I went with my favorite crumble recipe from Ruth Reichl. I found this recipe years ago in a Gourmet magazine (I still miss it) newsletter in which the then editor made a super-simple apricot crumble. I use that base recipe often because it's a cinch to make and it tastes so great with pretty much any fruit imaginable acting as the filling.
But, the guts of this strawberry rhubarb number, that's all a family affair.
It begins with the Army housing quarters in Ft. Leavenworth, Kansas, which were my favorite in memory. We lived in this fantastic yellow duplex that overlooked the parade field in the front, and not too far around back, the Missouri River. It was a great, old, big house loaded with plenty of adventures for four rambunctious kids–a banister perfect for sliding, a balcony off my twin sister's bedroom where hours of rescue operations happened with stuffed animals. That house was also the first time I had my own room in my life, something I was so excited about, but as an adult sort of miss the days of sharing a room with my twin. It was a like a giggle factory in there.
At the back of the house at 6 Sumner Place were massive stalks of rhubarb. I don't think I'd ever eaten it before I lived in that house. My mom didn't quite know what to do with it or even what it was. Laughing, she recalled to me she was going to cut down the plant until her parents' visited and her father told her she'd hit the rhubarb jackpot. From that day forward, she took my Grandmother Fey's wonderful recipe for strawberry pie and added a generous amount of diced rhubarb stalks to the filling. It's the most incredible blend of tart, tangy, and sweet underneath that gorgeous crumble topping. And while it is premature to be making and sharing now, I couldn't resist.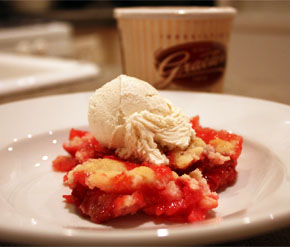 Crumble Topping
• Melt 1 stick of butter
• Stir in ¾ cup sugar
• Stir in ¾ cup flour
Strawberry and Rhubarb Filling
• 1 pint sliced strawberries
• 2 cups chopped rhubarb
• 1 cup sugar
• 3 T cornstarch
• ½ tsp salt
Combine strawberries, rhubarb and sugar, let stand for 60 minutes. Preheat oven to 400°. Drain fruit juice into saucepan with cornstarch and salt mixture. Cook, stirring constantly until mixture thickens. Remove from heat; carefully stir in strawberries and rhubarb. Pour mixture into casserole dish and cover with crumble topping. Bake for 30-40 minutes (until the top is golden brown). Top with vanilla ice cream (Graeter's is the best).
you might also like...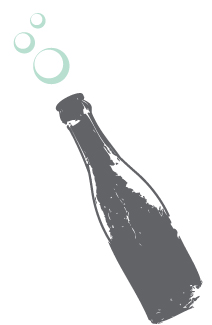 archives