November 18, 2008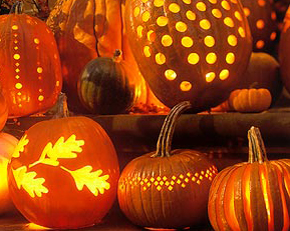 I'm not a hater. Really. I mostly try to accept people and things as they are. But there is that ONE thing (and I'm pretty sure I'm not alone on this)…Rachael Ray. Like, I really can't stand her. For multiple reasons; overuse of acronyms, inability to tell funny jokes, addressing adults as kids or kiddos, calling sandwiches sammies, referring to her husband as "her sweetie," and a horrific recipe repertoire, for starters.
So, imagine my surprise when we went to one of our dearest friend's house for a pumpkin carving party and come to find out, this killer pumpkin black bean soup she served was a RR recipe. She was as embarrassed about it as anyone for making it, but it really is that tasty.
At first, I thought the soup was just heightened in deliciousness because of the festive party atmosphere (pornographic imagery pumpkin carving, unlimited supplies of fall ales and red wine, fire-pit crackling with scents of burning rosemary). I mean, it was such a fantastic party that someone fell out of a chair. That's usually the litmus test to throwing a good get together – 1. Did anything break? 2. Did anyone fall out of or off of something they were sitting on? Yes. And yes.
Like I said, it was a great party. Afterwards, I made the soup myself and it was just as good as I remembered. Truth be told – I'm not ashamed to say it's amazing, or reprint the recipe here. Now, don't even get me started on that crazy mofo Sandra Lee a.k.a. Heidi Montag in 20 years.
Post Script – I got my parties confused. The porn pumpkin carving did not occur at this particular party. But, that other party, wow. Enough said. As for the soup, it will always remind me of fall, and is a perfect way to use up leftover cans of pumpkin from all of you overambitious bakers next week.
Pumpkin & Black Bean Soup
Adapted from 30 Minute Meals
Ingredients
2 tablespoons extra-virgin olive oil
1 medium onion, finely chopped
3 cups vegetable stock
1 can (14 ½ ounces) diced tomatoes in juice
1 can (15 ounces) black beans, rinsed and drained
2 cans (15 ounces) pumpkin puree
1 cup skim milk
1 tablespoon curry powder
1 1/2 teaspoons ground cumin,
1/2 teaspoon cayenne pepper
Coarse salt
Fresh chives or green onion for garnish
Heat a soup pot over medium heat. Add oil. When oil is hot, add onion. Sauté onions 5 minutes. Add broth, tomatoes, black beans and pumpkin puree. Stir to combine ingredients and bring soup to a boil. Reduce heat to medium low and stir in milk, curry, cumin, cayenne and salt, to taste. Simmer 5 minutes, adjust seasonings and serve garnished with chopped chives or green onion.