September 14, 2010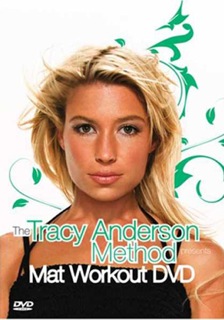 I first heard about fitness guru Tracy Anderson on Gwyneth Paltrow's GOOP, and then, when fellow bloggers and friends Asian Cajuns told me about her workout DVD. (Side note, you'll get to know twins behind the site, Lauren and Catherine better next week.)
Knowing I was going to be at my mom's and out of my normal workout routine, this DVD seemed like the obvious choice to take with me. Though, I was forewarned, and I'm warning you, to say Tracy isn't the best teacher is an understatement.
It's the first workout DVD I've done that you really do have to do several times before you get it because she'll just start going into a new exercise without telling you. Plus, I get the impression she's pretty much in love with herself and adds dance moves to just about everything. She reminds me of girls who dance in clubs that stare at themselves in the mirror making sexy faces. Oh, and she looks like Shakira while doing it all. Awesome.
But, in her defense, the interview chapter of the tape did resonate with me. She experienced college weight gain, and nothing worked to get her long and lean, she just kept bulking in the gym. Knowing girls want really toned dancer limbs, she spent eight years developing and researching this program, and the end result is this: it works.
My abs after the first workout killed. Which is ironic because that's the exact section on the DVD I despised the most, her standing abdominal workout where it appears she's in a Beyonce video and is ridiculously annoying. Seriously she's just keeping beat to the music. But, I'm thinking the likes of Gwyneth and Madonna, who are Tracy's clients (I love that I'm writing about her like we're old friends) know a good thing when they see it. Though not available for download on iTunes, it's worth the purchase on her website.
And to completely counterpoint, it might be best to get in the whole club scene and pop a bottle of Armand de Brignac while you're at it. At the very least it'll make the standing ab portion actually make sense.