December 23, 2008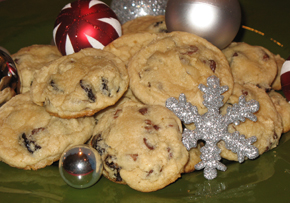 These are the perfect cookies to leave out for Santa. They won't kill his waistline, as they are adapted from Cooking Light and made with just one egg white and less butter than usual cookie recipes (admittedly, my version ups the ante on chocolate chips, it is the holiday season, after all). I love the addition of dried cherries in what would otherwise be just a plain ol' chocolate chip cookie.
I do have to give most of the credit for these gems to my older sister, since I was introduced to the recipe years ago, when we baked them together at her house.
Whatever holiday it is that you are celebrating this season, I do hope it is filled with loads of joy, laughter, and cheer.
Double Chocolate Chip Cookies with Cherries
Adapted from Cooking Light
1 ¼ cups all-purpose flour

½ teaspoon baking powder

¼ teaspoon salt

5 tablespoons butter, softened

½ cup granulated sugar

1 ½ teaspoons vanilla extract

1 large egg white

1/3 cup dried tart cherries

¼ cup semi sweet chocolate chips

¼ cup milk chocolate chips
Preheat oven to 350° F.
Lightly spoon flour into dry measuring cups; level with a knife. Combine flour, baking powder, and salt, stirring with a whisk.
Combine butter, granulated sugar, and brown sugar into a large bowl; beat with a mixer at medium speed until well blended. Add vanilla and egg white; beat 1 minute. Slowly beat in flour mixture. After combined, stir in dried cherries, and chocolate chips.
Drop level tablespoons 2 inches apart onto baking sheets coated with cooking spray. Place pans in freezer for 5 minutes. Bake at 350° for 10-12 minutes or until lightly browned. Cool on cookie sheet for about 2 minutes. Remove from sheet; cool completely on wire racks.
Yield: 2 dozen cookies