October 14, 2008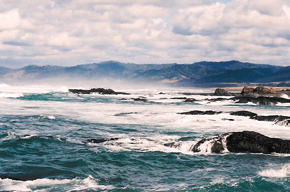 So…here we are. I must admit this is all a little surreal. I've wanted to do a website for ages and have had some form of it in my mind for about that long. It's taken me a bit to get here…an almost 6 year stint as a producer at CNN, a senior publicist for a boutique public relations firm in Atlanta, and freelance writing around all that.
I've always written in some form and I thought danapop would be a great outlet for me to practice the craft of writing in a structured sense and cut out the middleman of pitching to the big bad wolf editor. Kidding – I freelance regularly, and the great thing about it is that, as luck would have it, I only work with amazing editors, ones who ultimately make me a better writer.
But, I guess the idea of danapop really started becoming real last winter when I was working as a publicist on Cayamo, a music cruise featuring Lyle Lovett, Emmylou Harris, Josh Rouse, Edwin McCain, and Ari Hest (hot) among others.
Here I was out in the middle of the Atlantic Ocean surrounded by people who were really passionate about their talents and their calling. Whether it was the up-in-coming songwriter thrilled to just be paid to play on the ship (free trip somewhere warm in the middle of winter didn't hurt), or the passengers who hauled their guitars on board to strum a bit with fellow musicians (or get shit-faced drunk with them, whatever, I digress).
While at sea I sat scribbling in a notebook and had the wtf moment of realizing I wasn't doing what I was supposed to be doing…I wasn't supposed to be entertaining (arse-kissing) journalists and making their jobs easier, I was supposed to be back BEING the journalist…
So, here we are. A little explainer of sorts of what danapop is since we're just getting to know each other.  It's fresh content that I generate a couple of times a week. I wanted the concept to have a bit of anonymity – meaning I could be anywhere and be anyone, but my voice, my articles. The name itself came from a place where I do my best thinking – the beach.
A bit about what you'll read on danapop.
Travel  – Pops on places, trends in travel, tips on packing, what to do and see while at your destination, and during the journey as well. I have a travel philosophy that not every getaway is the trip of the lifetime – sometimes you have to wait many, many years for great walls and cloud forests, but there's certainly merit in all travel, big and small. No matter the trip, adorable shoes that won't give you funk feet and a partner in crime you adore are musts. Nothing worse than blisters and hating the person you're traveling with.
Culture – From McCain to mascara, Damien Hirst's latest exhibit to deconstructing the meaning of such television gems such as, Rock of Love (that's gotta be a wig under that bandana, right?) and Sunset Tan (I can just feel myself getting dumber even when channel surfing past it), Biden to Bikram – you'll find it here.
Life – It's all about relationships – whether it is a boss, parents, spouse, siblings, friends, pet – whatever. This section is the tricky balance of head and heart stuff. The trampoline of life's ups and downs.
Food & Drink – One of my favorite things in the world is to linger over a meal and a glass of wine with friends or family and interesting conversation.  From dinner party tips to seasonal recipes, I'll load you with all the goodness you can handle and hopefully help ease the stress of hosting events along the way.
When I was in the middle of the Atlantic scribbling, the first phase I wrote in that notebook was the "the sunshine in my mind." This was derived from the Lyle Lovett song In my Own Mind, which I heard during his sound check the night before.  Aren't we all just looking for our sunshine? To create and add a little glimmer of something worthwhile and meaningful. A teeny ray peeking out through the cluttered debris. 
I will be posting two times a week – bookmark and check back often. I do hope you like it, and I do hope you stay a while.
Dana Hazels Seith
founder & editor-in-chief