June 26, 2009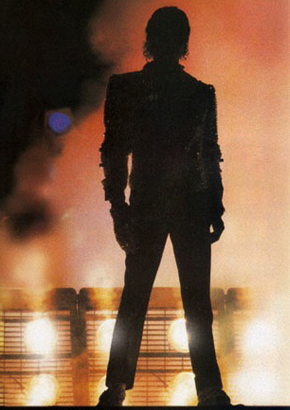 This was a piece originally posted in April, but I find it only fitting to repost. Rest in peace, MJ. And thank you, for one of the greatest nights of my life. xoox, from danapop to the King of Pop.
Growing up, music was always a pretty big deal in our house (um hello Bruce Springsteen garage door). I remember slumber parties my twin and I hosted where we were embarrassed by my father's wake up call – usually Stevie Wonder or Rod Stewart blaring through the Bose speakers in the living room at 7 am. Not fun after a night spent gossiping about boys and stuffing ourselves with soda and Pizza Hut and definitely not cool either.
Since music was such an enormous part of our life, it's no surprise that my first concert would have an amazing back-story. The biggest concert of the year, hands down in 1984 was when Michael Jackson toured with his brothers in what was called The Victory Tour. The first stop of the tour was – you guessed it – Kansas City, Missouri and us folks in the Heartland were such big fans that they had to schedule three performances. You must remember this was at the absolute height of Michael's career; back when MTV actually aired videos and would show Thriller in its half-hour entirety. All us kids were cuckoo for cocoa puffs over Michael Jackson.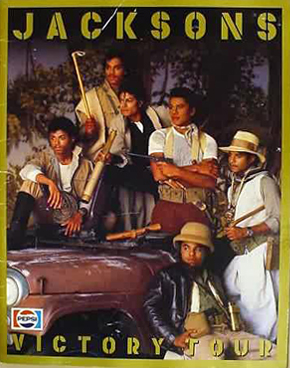 Well, we at the Hazels' homestead were thrilled and sad at the same time – we didn't have a chance of getting tickets to the sold out shows. Out of the blue, dad suggested we head out to Arrowhead Stadium on the afternoon of one of the show's three dates to see if by some slim chance we could score tickets. My mom and my two sisters were visiting my grandparents in Oklahoma (sucks for them), so it was just dad, my brother and I.
I can't remember exactly why dad didn't purchase scalped tickets (likely too expensive), so after hours of circling the stadium perimeter, the three of us plopped down, defeated and suffered the tease of being able to faintly hear, but not see the opening act (to this day, I cannot remember who it was). Darkness was encroaching and we were tired and hungry, but for some reason, we hung around just a bit longer, my brother, dad and I sitting on a curb just outside the stadium feeling sorry for ourselves.
And that's when it happened…
Out of nowhere, a long, dark, stretch limo slowly crept up beside us. The limo stopped, a window was rolled halfway down, then, a voice inside called my father over. After a short conversation with the limo passenger (who we now assume was one of the bands' managers), dad emerged with three tickets in hand.
Later I learned that the man simply said: "Sir, you can't let those babies miss the show."
I remember everything about that night…standing on the stadium seat dancing my little white booty off. Lasers, lights, fireworks, moonwalking, glitter, zippers, it was insane.
I wonder still just who that man was – I'd like to thank him for the greatest thing my eight-year-old eyes had ever seen.