July 13, 2011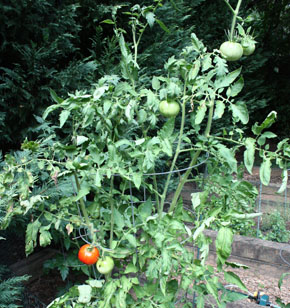 Right now I'm up to my elbows in both tomatoes and peaches. The first, because I planted four different varieties in our garden this past spring and they are just beginning to turn from pale green into a vibrant red relatively at the same speed (minus the one shining star ready for picking). The second, the peaches, because I bought a half peck in south Georgia en route to Atlanta from Florida.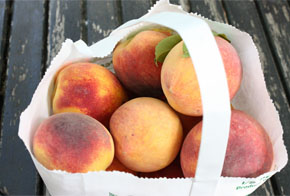 I've thought of all sorts of things to do with both … there's a tomato jam recipe (here) that I'd like to try, and the peaches will be good in just about anything (an oat-crusted crumble, piled on top of homemade vanilla ice cream). But, I keep coming back to the caprese. The simple Italian insalata trifecta of sliced tomatoes, basil, and buffalo mozzarella drizzled with good olive oil, a pinch of salt and pepper—perfection.
I'm certain I could eat this daily for a great length of time for lunch or dinner and never tire. Then, I stumbled upon a recipe (here) for peach caprese, and well, wow!
Wishing I would've bought another peck.