July 18, 2012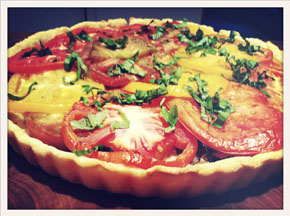 Our house is located in the heart of Atlanta, but an interesting juxtaposition to our city living is the co-op farm situated just behind us. And right now, we are so spoiled with a ridiculous supply of ginormous eggplants, tomatoes in every color of the rainbow, endless squash and zucchini, and beans that are so good they require no dressing up.
After my friend who farms behind us gave me a canvas bag full of gorgeous tomatoes, I was in search of a recipe that would use an abundance of them before they spoiled. So, I made this tomato tart. The recipe here calls for it to be rustic, but I made it somewhat fancy and actually used a tart pan for more of a formed dish. It was incredible for dinner. And even better the next day for lunch. I can't say this would taste the same if you used grocery store tomatoes, as they are the star ingredient, and this tart certainly requires a great variety of peak-season toms.
This is exactly what July should taste like.