January 17, 2013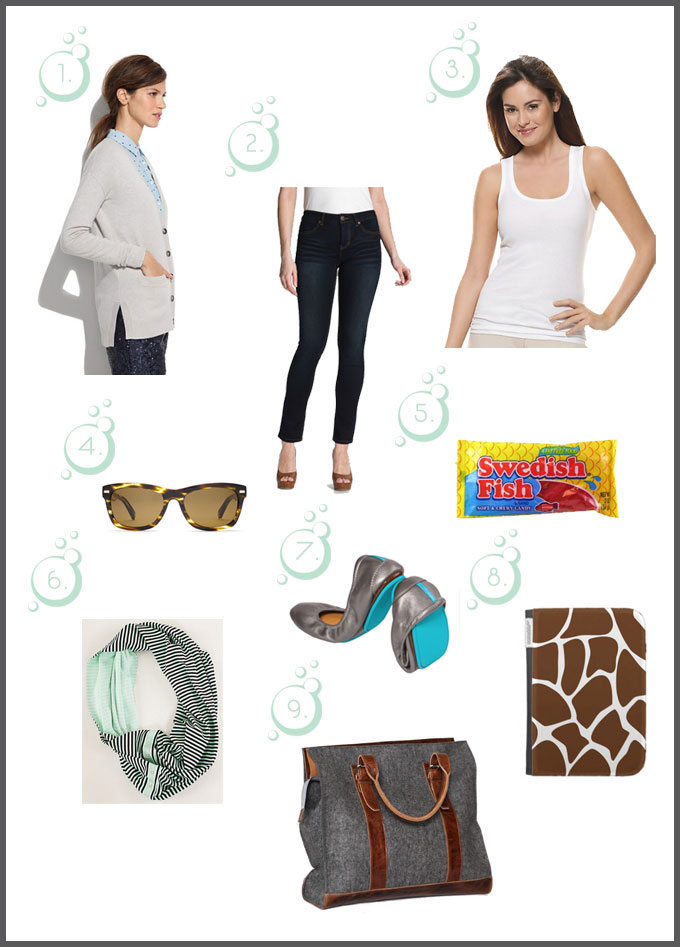 My husband gifted me a gorgeous infinity scarf for Christmas this year, and while it's perfect for everyday, it's even better for travel. It got me thinking about travel attire. Some folks I saw roaming the airport terminal this past holiday season were pieces of work.
I'm all for comfort when I travel, but pajamas are not a proper choice when leaving the house (unless you're a newborn), let alone for someone meeting you at baggage claim with you sporting a snowflake flannel number paired with an oversized sweatshirt. Ditto Juicy Couture velour tracksuits. Though I must admit this look (thank goodness!) is fading out, but there's always at least one person in the boarding area strutting around with Juicy written in metallic across their rear.
My comfort comes in the form of a dark wash jean, and a smart cardigan layered over a simple tank top. Side note—I read an article once from a fashion editor who swears by el-cheapo Hanes tank tops and tees in every color and style. I can get behind that trend. Usually I wear boots through an airport because they are so much easier than packing, but lately, cozy flats are more my speed. Lastly, a neutral bag that'll double as a purse at your destination will make electronics, sunglasses, and snacks easily accessible. And just like that, you're destination-ready.
1. Blanket cardigan, Madewell
2. Abby skinny supersoft stretch jeans, Liverpool Jeans Company
3. Women's ribbed tank top, Hanes
4. Thatcher striped sassafras, Warby Parker
5. Swedish Fish
6. Vinyasa scarf, Lululemon
7. Metallic Pewter ballet flat, Tieks by Gavrieli
8. Giraffe print Kindle keyboard cover, Zazzle
9. Graf & Lantz wool felt carryall, Huff Harrington