October 2, 2012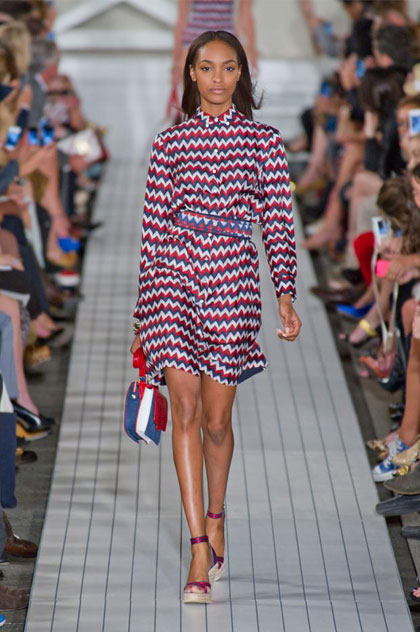 Who knew Charlie Brown was on fashion point? The chevron stripe is blanketing everything from apparel to home décor of late. I started noticing the print on summer dresses and flowing tops, then on interior goods like rugs and curtains. It appears to be sticking around way past summertime's mint and pale pink pastels and into deeper colors for fall like burgundy and midnight blue. I totally get the appeal.
On apparel, it's a flattering pattern, where a standard stripe can sometimes be tricky to pull off (ever notice how thick prints can weigh you down?). And on home accessories like bedding and accent pillows it's a no brainer because it has the ability to hide imperfections (like dog hair on a duvet and a red wine stain on couch pillows).
Apparently pushing fashion boundaries runs in the Brown family as Sally, Charlie's younger sister knows how to rock a polka dot dress like no other.
Images: Tommy Hilfiger Spring/Summer 2013 NYFW courtesy of weloveweddings.omaha.com, Peanuts © United Feature Syndicate