November 24, 2009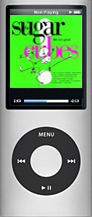 In keeping with tradition, it's time for the annual playlist fitting of all the turkey and tension your family can handle. This year's list combines all the components of both food and family dysfunction with a side of past relationship awkwardness. The whole mess equals a true symbol of going home for the holidays in music form.
Here's to not taking our issues, others, or ourselves too seriously this season. Oink oink, my good man!

Cigarettes and Chocolate Milk by Rufus Wainwright (This is such a gorgeous song … but why does it have to be that everything we love is so harmful?)
Build Me Up Buttercup by the Foundations (Every dinner party needs a good sing-a-long.)
Smile Like You Meant It by The Killers (My mantra this season, smile–life shouldn't be taken so seriously.)
Little Bribes by Death Cab for Cutie (Ah the bribes we all make with family, such as–If you keep your mouth shut about the boyfriend break-up, no one will hear it from me about your "club soda" habit.)
Cycling Trivialities by Jose Gonzales (Keep the past in the past, don't circle back.)
Sure Shot by Beastie Boys (Give thanks to that bird who took a bullet for you.)
This Song by Badly Drawn Boy (That kiddie craft table is nothing to write home about.)
She Will Have Her Way by Neil Finn (I'm sure I'm not alone in this, but my family is loaded with non-compromisers.)
No One's Gonna Love You by Band of Horses (That said, no one's going to love you like your family does. For better or worse.)
Just like Honey by Jesus and Mary Chain (My new obsession, honey drizzled over a cheese plate–it requires strong-like-bull cheeses such as manchego or stilton blue, topped with berries or pears).
Give What You Take by Mojave 3 (A good lesson. Never take more than you give.)
Be Somebody by Kings of Leon (Most of us spend our lives proving to our families that we're somebody. I'm beginning to realize as long as you think you're somebody, that's all that truly matters.)
Fat by Violent Femmes (Dedicated to every ex-boyfriend, the lyrics "I hope you got fat.")
California Dreamin' by The Mamas & The Papas (I wonder how MacKenzie Phillips's Thanksgiving is going this year?)
Corduroy by Pearl Jam (The waiting does drive most people mad … when are we eating already? It's worse than are we there yet?)
Starfish and Coffee by Prince (One of my favorite Prince songs, and the abundance of food references is perfect for the Thanksgiving feast.)
Bad Day by R.E.M. (Always arrive picture ready. And if your mother is anything like mine, she'll send you a pile of prints post-visit with you sporting a double chin, eyes closed, and wearing jammies in every shot.)
I Got Stripes by Johnny Cash (It could always be way worse.)
All my Friends by Counting Crows (Growing up, the best night to go out with everyone was Thanksgiving night … update your FB status announcing your arrival and they'll be there in droves.)
Everybody's Changing by Keane (For my family, this year has been a huge one of change. Here's hoping 2010 and me at 33 has us all doing less rolling with the changing tide.)
Proud Mary by Ike & Tina Turner (Ike and Tina sort of put everything in perspective.)
Wishing Well by Airborne Toxic Event (I think holidays in general are a good time to reflect on where you were last year and wish for where you want to be in the next.)
Benny and the Jets by Elton John (See Build Me Up Buttercup.)
Turn on Me by The Shins (You always have to have one ally in the bunch who will never turn on you. Et tu Brute?)
Birthday by The Sugarcubes (My birthday falls around Thanksgiving … this year, it's the day after.  I'm already gearing up for a boatload of sushi and have spent the last week trying to talk my husband into singing Islands in the Stream at karaoke. As of today, seems I'll be singing both the parts of Dolly Parton and Kenny Rogers. Lame.)
Mama Told Me (Not to Come) by Stereophonics & Tom Jones (I like this version better than the original by Three Dog Night. At any rate, your mama will kill you if you don't come, but if you don't–have a good excuse handy.)

Fitter Happier by Radiohead (Everything in moderation, Tiger.)
You On My Mind In My Sleep by Richard Ashcroft (For all of you away from those you love.)

Higher Ground by Red Hot Chili Peppers (If only the high road wasn't so hard.)
Uptight (Everything's Alright) by Stevie Wonder (There's one in every crowd that's up to the tight. A free flowing liquor cabinet generally helps loosen them up.)
Girls & Boys by Blur (Thanksgiving is a great time for family members to whisper about same-sex roommates and live-in situations.)
Don't Stop Believin' by Journey (If Tony Soprano were a real person I wonder if the fade to black in the last episode means he wouldn't be joining Carm this year?  A gentle reminder from last year's playlist lesson–refrain from watching shows like this in front of the fam … no one wants to be in the same room when Grammy gets to the Bada Bing! scenes.)
Pecan Pie by Golden Smog (My version's been updated with the addition of bourbon and chocolate, beats plain ol' pecan pie).
Master and Servant by Depeche Mode (Thanksgiving dishes are a biyatch, especially when there's sterling and heirloom china involved. Washing tip … easy on the wine sipping during dish duty, whoopsie.)
Little Acorns by The White Stripes (A good advice song … side note what's the deal with these two? Married? Divorced? Siblings?)
We've Only Just Begun by Carpenters  (Let Karen be your lesson, now's not the day for a diet, that said, see Fitter Happier).
My Ding-A-Ling by Chuck Berry (One Thanksgiving, my husband had one (err several) too many and decided to sing parts of this song–he was singing the version from The Simpson's pretending to be Ralph performing, but the idea was the same of him belting about someone playing with his ding-a-ling. Awesome.)

Hungry Heart by Bruce Springsteen (It is with a hungry, yet heavy heart that we are spending Thanksgiving without family this year. We'll be with our best friends, so it's just as good. But, here's hoping you and yours are with the ones you love–no matter if it's blood family or the family we make along the way.)