February 5, 2013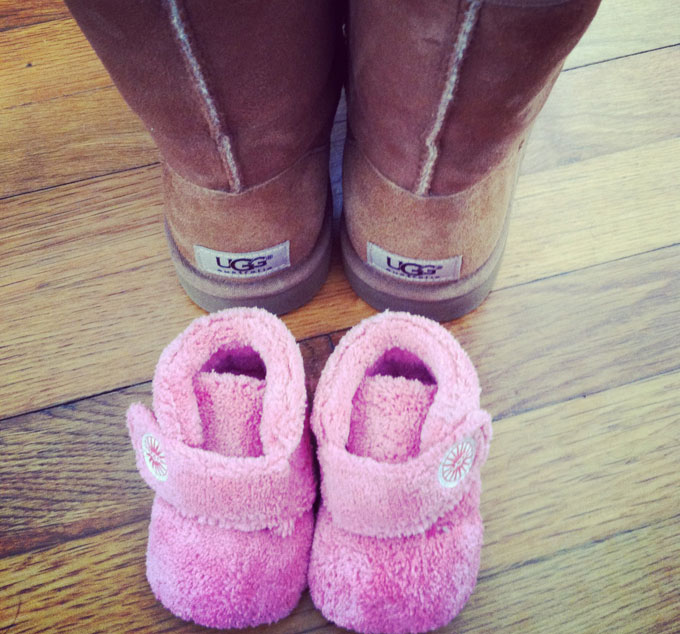 I have a love hate relationship with Uggs. Meaning most people love them and I hate them. It doesn't get much more ugly than a glorified moonboot, and style-wise that's absolutely what they are. The only exception is baby Uggs, which are just the cutest things ever.
I wholly believed all this until I had the baby that wore the Uggs. On social media, more than once, I've knocked such Ugg disasters as the I Do wedding collection and its collaboration with Jimmy Choo. Now, I cannot get enough.
I'll even admit to having not one, but now two, pairs myself. I've now become the person that goes from my Ugg house slippers to boots and back to slippers again. Both pairs are like slipping into a stretched out sweatshirt or your favorite pair of jeans, each looking a little worse for wear, but there's no way you'd part with them.
I used to think Uggs were made for high school and college girls living in either the Midwest or California, but no, they were created for moms. I wear them to the grocery store, to yoga, to walk the dog around the neighborhood. Seriously. All. The. Time. I caught a glimpse of myself in the reflection of a car the other day while walking Otis, and I hardly recognized myself with my yoga pants and Uggs pushing a stroller. If only my 20-year-old wild self could see me now.
And when I'm at the aforementioned places, I see all the other moms doing the same thing. It's like our own secret code of yeah, we're too tired to even tie our shoes, but man, these boots are cozy and warm, no matter that they are super ugly.
Ugh. Uggs.