January 30, 2009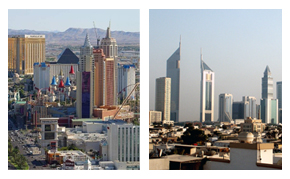 Are there places you've always wanted to visit? Of course there are. I know I have a ton of them. A long, infinite list – a list in constant flux – as one destination is crossed off, another is quickly added.
Dubai has long been near the top of my list – not the new Dubai crisscrossed by American food chains, Vegas-style mega hotels, overtly hip eateries and LA-esque traffic jams. No, give me the Dubai with its once active ports, quaint fishing enclaves and seemingly endless supply of pearls.
Like most international cities, the Western influence has stealthily made its presence known here – Starbucks, Burger King and Kentucky Fried Chicken all have outposts. And I sort of get that for these cities to function and thrive you need that sort of commodity. But it all makes me sad.
Dubai, the most populated city in the United Arab Emirates, has always struck me as a magical, mystical place – a vision of wonder. Every aspect of the city is a fascinating juxtaposition. It's a city that's situated on a desert that oddly enough, butts up right against the sea (the Persian Gulf) where modern architecture coexists with old-world. For every one thing, there's a counter. Check and checkmate.
All that began to change in 2005 when this desert paradise was invaded by progress – engineered largely by one company…Al Nakheel Properties (Nakheel Corp). Now, this city looks more like Vegas than, well, Vegas. From The World – a collection of islands (the developers refer to as a portfolio) all man-made, off the coast of Dubai, shaped like the continents of the world where only the wealthy will dwell and play (each island is priced starting around $6.85 million), to hotels rising skyward as fast as you can swig a caramel macchiato, to high-end retail shops, Rande Gerber bars (set to open in 2011) and Gordon Ramsay restaurants – the bustle in this city is beginning to bear a striking resemblance to Las Vegas' 1980's makeover. Small making way for big, old making way for new, charming and beautiful making way for the ugly and unoriginal – draining the city of most of its timeless charm.
I've just never understood the tearing it down to make new; while building a future, Dubai's developers are destroying the past and making it an unrecognizable city in the process. Deja vu all over again.
When I finally get over there, I know it won't be the city I've always wanted to see. It will certainly be a vastly different beast altogether. It already is.
"Bright light city gonna set my soul, gonna set my soul on fire…"
Viva Las Vegas. Viva Dubai.