April 25, 2012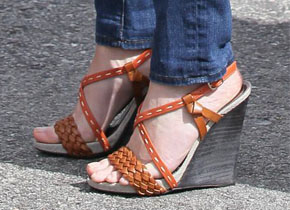 I've had a pretty steady relationship with the wedge sandal. I'm certain my penchant for them has something to do with the fact that they are a petite girl's best friend. For starters, wedges are so much more comfortable than a stiletto, but they still give added height. I have several pairs that make me inches taller that are so comfortable I can sport them all day. My first pair back in high school was so heavy I remember packing them for a trip and feeling like free weights were tucked inside. They had zero give and were what I suspect to be the equivalent of walking on cement blocks, but I loved those wedges and wore them until the straps were falling apart from the weight of the thick sole.
Nowadays wedges come in just about every color of the rainbow and every style imaginable–from slip-on to T-strap to woven espadrille-style heels. It's not hard to find a pair to match every occasion, no matter if it's dressed-down denim shorts for a barbecue or paired with a summer sundress fit for an afternoon wedding. Here are my favorites.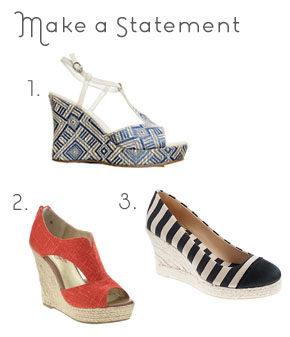 1. Coconuts Vice Wedge, Swell 2. Seychelles Memories of You, Piperlime 3. Seville Canvas and Satin Wedge Espadrilles, J.Crew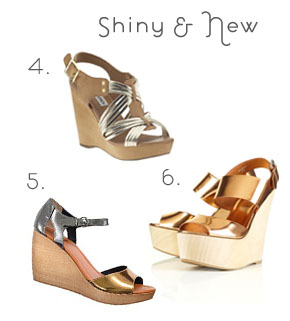 4. Steve Madden Tampaa, Piperlime 5. The Metallic Streetside Sandal, Madewell 6. Wowza Metallic Wood Heel Wedges, Topshop
7. Ciao Bella Black Leather Hartmen Rubber Wedge, Bluefly 8. Indigo by Clarks Sky Pocomo Wedge Sandal, American Eagle Outfitters  9. Nude Patent Wedges, Dorothy Perkins
Reese Witherspoon Wearing Wedges image: girlstalkinsmack.com
you might also like...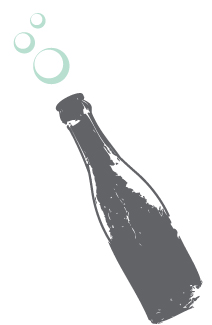 archives