April 25, 2012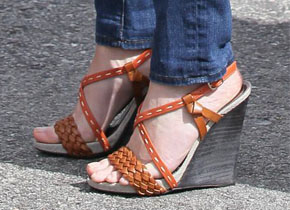 I've had a pretty steady relationship with the wedge sandal. I'm certain my penchant for them has something to do with the fact that they are a petite girl's best friend. For starters, wedges are so much more comfortable than a stiletto, but they still give added height. I have several pairs that make me inches taller that are so comfortable I can sport them all day. My first pair back in high school was so heavy I remember packing them for a trip and feeling like free weights were tucked inside. They had zero give and were what I suspect to be the equivalent of walking on cement blocks, but I loved those wedges and wore them until the straps were falling apart from the weight of the thick sole.
Nowadays wedges come in just about every color of the rainbow and every style imaginable–from slip-on to T-strap to woven espadrille-style heels. It's not hard to find a pair to match every occasion, no matter if it's dressed-down denim shorts for a barbecue or paired with a summer sundress fit for an afternoon wedding. Here are my favorites.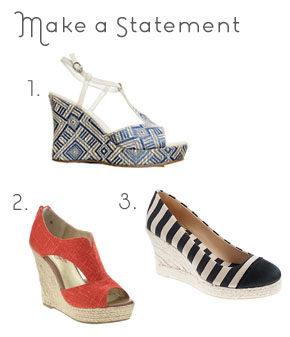 1. Coconuts Vice Wedge, Swell 2. Seychelles Memories of You, Piperlime 3. Seville Canvas and Satin Wedge Espadrilles, J.Crew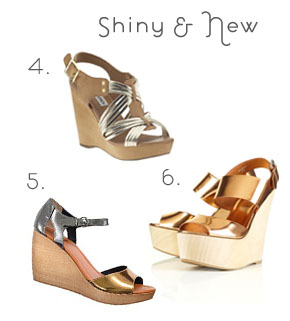 4. Steve Madden Tampaa, Piperlime 5. The Metallic Streetside Sandal, Madewell 6. Wowza Metallic Wood Heel Wedges, Topshop
7. Ciao Bella Black Leather Hartmen Rubber Wedge, Bluefly 8. Indigo by Clarks Sky Pocomo Wedge Sandal, American Eagle Outfitters  9. Nude Patent Wedges, Dorothy Perkins
Reese Witherspoon Wearing Wedges image: girlstalkinsmack.com
April 18, 2012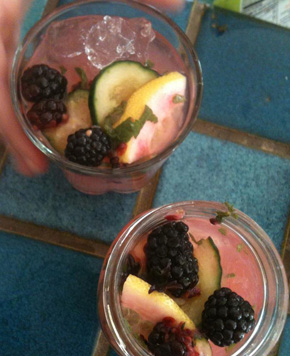 Here's what trend I see popping up in the spirits category this year—gin, gin, gin, gin and more gin, gin. Juniper is having a serious moment here. Snoop had it right back in 1994. I actually wasn't a fan of it, always favoring the more subtle and smooth vodka in my cocktails, but then I tried Hendrick's, and besides having incredibly clever packaging made to look like a vintage apothecary jar, it's the best tasting sip there is.
I've now stumbled across what sounds like the most delicious, perfect springtime-into-summer sip of choice–the blackberry cocktail. Of course, it contains gin. This is Atlanta chef Anne Quatrano's recipe, which was published in a back issue of Southern Living, and I cannot wait to make it. I mean, mint, lime, cucumber, and blackberries all swimming in a sea of gin … how great is that?
Get the recipe here. Don't know about you, but it helps me keep my mind on my money and my money on my mind.
April 11, 2012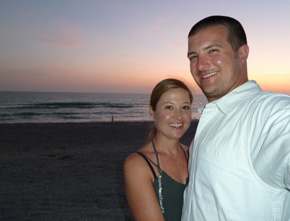 My first trip to Florida was when I was a sophomore in high school and went to visit a friend of mine whose family moved to Orlando. I have to say, Orlando is not exactly my favorite spot (quite the opposite, actually). The parking lot coming out of Disney World at 10 p.m. with kids that should've been fed and in bed hours prior kind of turned me off. But, once I met my husband, I realized the specialness Florida holds for him and his family. Thank goodness that place is not Orlando.
We go just about every season possible and the vibe of the area changes with the time of year. For instance, during spring break, it'll be flooded with snowbirds who call it home (one who once flipped me the bird because I inadvertently didn't come to a full stop for pedestrians who hadn't yet started walking across the street). To fall, when you'll likely have the whole beach to yourself (my favorite). We try to go in the summertime at least once, generally around July 4, because in my mind, there's nothing quite like seeing fireworks over the ocean. And we'll make up a big batch of something great to eat, like scallops with bacon and sweet corn on the grill, open a bottle wine, and it's my idea of perfection. It's filled the families like us, leisurely celebrating the holiday.
The area we go to is Siesta Key, about seven hours south of Atlanta, just off Sarasota overlooking the Gulf of Mexico. We're utterly spoiled when we go–we get to use my in-laws condo for our stay, which is such a generous treat. It feels just as much like going home as it does when we return to my husband's hometown of Cincinnati. Because of this, I cannot exactly recommend places to stay, but I can offer a ton on where to eat and what to do. Here are my recommendations of where to head while in stunning Siesta Key.
April 4, 2012
Fear of missing out (FOMO) is a real thing. And never has it been more apparent in our culture than right now with the boom of social media. In an instant, our lives are as mundane or as fantastic as we spin them to be. Forbes just featured a great piece on it, you can read here.
We can shape a so-so situation into the most glorious time, making other's wish they were there. We'll fill our social calendar out of that fear of missing anything. By choice, I've been a hermit lately. And for the first time in a while I recently ventured out to an event–and lo and behold if it wasn't the same people having the same conversations. Nothing against any of those people, nor their likely enlightening conversation, but man, if I didn't want to just be at home cooking supper with my husband or out to dinner with my best friend giggling until we both keel over from stomach pains.
I had an epiphany at that event that I was really only there because I didn't want to be the one that wasn't. As if I'm so important that anyone would actually give a care if I didn't show up. I'm seriously not that full of myself, but are we now a society shaping our lives not because we want to be somewhere, but because it's where we think we ought to be? Why? So, we can check in on Foursquare with our peers and someone can say, "It looks like Dana and Stacy are at the opening of the must-be-seen-at latest restaurant opening or art exhibit. Wow, wish I were there?" So you can post pictures of the it's-so-amazing-oh-my-gosh-you're-a-dork-if-you-don't-know-about-it underground supper club that meets every third Tuesday of months ending in "y" in an airstream trailer that moves to undisclosed locations.
Seriously. I'm not jealous. Isn't there some famous quote about one of the great joys in life is not only being invited, but having the choice to not show up? I'll probably find that gem of a saying on Pinterest, while crafting the perfect surprise birthday party theme with the most coveted invite list in town.
Sigh.
Trust me, you're not missing a thing.