December 30, 2008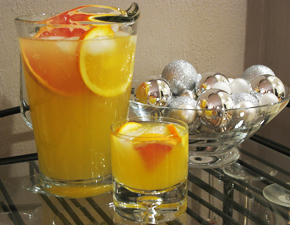 One of my oldest friends back home has a lethal punch recipe passed down to her by her mother. My friend always serves it at Holiday parties and whether I drink it with her and the girls back home or make it where I live now, it makes me think of family and longtime friends. It's the perfect thing to serve if you're hosting anything on New Year's Eve. And like most good recipes, you can really vary it any way you like – adding or omitting ingredients, making it your own. A forward thinking tip – stock up on frozen hashbrowns, a block of cheese, eggs and Excedrin for the next day…
Cheers!
Chappie's Champagne Punch
•    1 large can of orange juice concentrate
•    2 oranges – cut up into small chunks
•    1 or 2 grapefruit – cut up in to small chunks
•    1 pineapple – cut in small chunks
•    ¼ bottle of vodka (keep the bottle handy and add to taste)
•    2 bottles champagne
•    1-2 liters of Sprite or Fresca (start with about ½ liter and add to taste)
To make the punch – mix the fruit, vodka and orange juice first and add the champagne and Sprite/Fresca last. The night before you make the punch, freeze water in a bundt cake pan or several mini cake molds.
Note – be VERY careful when adding "to taste" this stuff is potent! In addition, keep 2 more bottles of champagne, orange juice, 1 bottle of Sprite/Fresca to replenish as needed.
For variation, add grenadine for color in the ice/bundt pans. Also – if you don't like citrus flavor, this can really be substituted with any juice/fruit combination – cranberry, strawberry – you name it.
December 26, 2008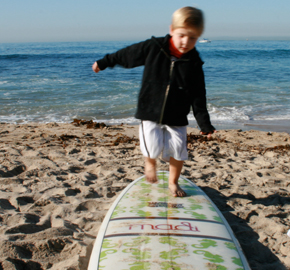 It's always around this time of year when the Holiday hub-bub is just about over that I get the urge to travel. Specifically, taking a trip that involves a beach. For now, I must only write about it than actually experiencing it myself. So, here's a wishful thought for surfing in the new year…
For me, surfing, much like life, is mostly about balance. That thin line of being steady, in control and powerful, dueling in sharp contrast with wiping out in one quick misstep. I recently discovered an amazing product that combines the notion of surfing with the design aesthetic of custom artwork – London L Surf.
I was fortunate enough to chat with Brittany Tripp, designer of London L Surf, a custom surfboard company out of Costa Mesa, California.
December 23, 2008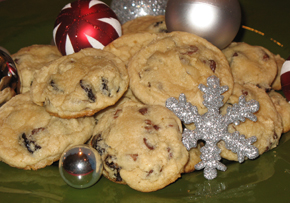 These are the perfect cookies to leave out for Santa. They won't kill his waistline, as they are adapted from Cooking Light and made with just one egg white and less butter than usual cookie recipes (admittedly, my version ups the ante on chocolate chips, it is the holiday season, after all). I love the addition of dried cherries in what would otherwise be just a plain ol' chocolate chip cookie.
I do have to give most of the credit for these gems to my older sister, since I was introduced to the recipe years ago, when we baked them together at her house.
Whatever holiday it is that you are celebrating this season, I do hope it is filled with loads of joy, laughter, and cheer.
December 18, 2008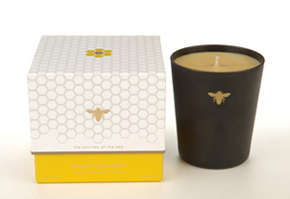 When I write, I tend to be more focused and inspired when I light a candle. So, it's not uncommon for me to have one burning most of the day. The balance of scent is tricky…I never want something too strong in its note (too floral or fruity or one that makes me want to devour a plate of sugar cookies or an entire apple pie). So, finding that perfect line of candles is complex with a ton of fragrance induced headaches and mysterious food cravings.  I found my solution years ago though, when a friend gifted me a Paddywax candle.
From first match strike, I knew, this was the candle company for me. Hand poured, eco friendly, family owned and operated…I had to get an interview with its founders. So I did. David Duncan and I sat down for a chat about the company he founded with his wife Gretchen, Paddywax.
Also, a timely sidenote – Paddywax candles are on my wish list for stocking stuffers…and should be on yours too.
December 16, 2008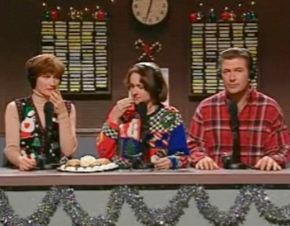 The Holiday Season is officially upon us. What goes better with all the tradition (whatever your beliefs) than lots and lots of sausage? Sure, sausage, why not?
Here are two of my favorite Holiday recipes that feature sausage. Chicken-Apple Sausage Strata with Spinach & Mushrooms and Sausage Balls. The Strata is perfect for a late Christmas morning brunch, and the Sausage Balls are just the thing to pass around while opening presents.
Both recipes are ridiculously easy. In fact, I cannot believe I'm posting a recipe that calls for Bisquick and only a mere two additional ingredients (meat, cheese and said Bisquick). But, my mother makes them every year for us to enjoy, and, well, you just can't monkey with tradition, especially when it comes from your momma. 
Chicken-Apple Sausage Strata with Spinach & Mushrooms
Adapted from In-Style Magazine
Serves 8 (VERY generous portions) 
2 tbsp olive oil

4 links (about ½ lb.) chicken-apple sausage, sliced

1 pkg. (10 oz.) white mushrooms, sliced

1 onion, chopped

1 pkg. (9 oz.) baby spinach

8 cups of day-old country bread or baguette, cut into 2" cubes, divided

2 cups shredded cheddar cheese, divided

1 bunch of scallions, chopped, divided

6 eggs

2 cups milk

Salt & pepper to taste
Spray 13" x 9 " glass baking dish with nonstick cooking spray. Heat olive oil in large skillet over medium-high heat. Add chicken sausage and cook until browned, about 5 minutes. Transfer from skillet to large bowl.
Add mushrooms and onion to skillet, cooking until mushrooms release liquid, 6-7 minutes. Add mixture to sausage in bowl. Add spinach to skillet and cook until wilted, 2-3 minutes. Add to bowl.
Place half the bread cubes in a single layer in prepared baking dish. Top with sausage-vegetable mixture. Sprinkle with 1 cup shredded cheese and scallions. Place rest of the bread cubes over cheese.
In a medium bowl whisk eggs and milk. Season with salt and pepper. Pour mixture over bread, pressing down on bread cubes to immerse in liquid. Cover with plastic wrap; refrigerate eight hours or overnight.
Heat oven to 350° F. Discard plastic wrap; bake strata for 50-55 minutes, or until top is slightly browned. During last 10 minutes, spread remaining cheese and scallions over strata. Let stand 10 minutes before cutting. Serve warm.
Sausage Balls
From my Momma 
2 ½ cups Bisquick mix

8 oz. finely shredded cheddar cheese

1 lb. mild sausage
Mix all ingredients (using clean hands on this one is the best way to incorporate). Roll into small balls. Place on ungreased cookie sheet. Bake at 350° F for 12-15 minutes. Makes about 2-dozen. Note – these can be made in advance and kept in freezer. And you can go a bit healthier by using low-fat or turkey sausage and multigrain or wheat flour mix. 
December 14, 2008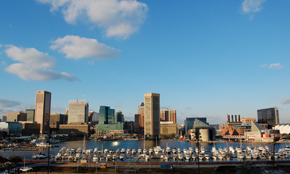 A fierce, anything goes city whose residents have included the iconic and unforgettable John Waters, Oprah, Frank Zappa, Billie Holiday, David Simon, and Parker Posey, to name a few. From green markets promoting family farms, to some of the best seafood in the US, to sugar and spice and everything nice (Charm City houses Domino sugar and McCormick spice HQ)…this week, I'm on the Chesapeake Bay with the pop on Baltimore.
December 11, 2008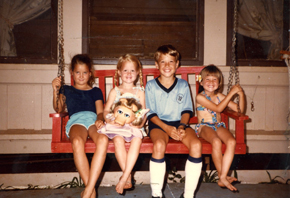 It was in March when my father died, suddenly and tragically. That left our family with just under a full-term pregnancy's worth of time to prepare for and dread the Holiday Season.
By mid-November it was evident that we could not and should not spend any holiday time at my parents' home. So my older sister agreed to host Thanksgiving at her house out of state. I claimed a work crisis that made it impossible for me to be in attendance for the turkey dinner party. From what I heard, it was a day awash in several liters of Riesling, never-ending pours of Jack Daniel's and meltdowns galore (something about empty chairs and too many individual salt and pepper shakers)…to this day I'm slightly sorry I missed it.
So, after this complete disaster of trying to perpetuate tradition when tradition had just been forever altered – my family in its usual highly democratic manner (rock, paper, scissors – kidding – majority rules) decided to spend Christmas in New York City (NEEEW YOORK CITEE said like the Pace picante voiceover guy). I won't bore you with the minute details, but rest assured that staying in a postage-stamp-sized apartment rife with 7 grieving adults was either the worst idea ever or an unplanned stroke of genius in its power to distract.  
December 5, 2008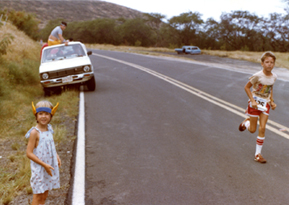 I come from a family of athletes. My grandfather and uncle both played college football. My father was a collegiate wrestler, my brother and twin sister were collegiate cross-country runners, and, to this day, my older sister holds college swimming records that remain unbroken some 14 years later. I on the other hand dabbled in several sports growing up, but never truly excelled like my siblings (and I'm fine with that – no Freud couch, seriously). Cheerleading, tennis, swimming, soccer, I did it all – reasonably well.
But running? Long-distance running? Um. Yeah. No. Yet, in a perfectly awful ironic twist, my dad was determined to have us workout together as a family as part of his never ending war with his weight. Dad's weight was always an issue, especially during his military career as an Army officer. As a family we mostly did fun runs – an oxymoron if there ever was one. You know, the early morning weekend events that ranged from 1 mile to 3.1 miles (5K).
December 3, 2008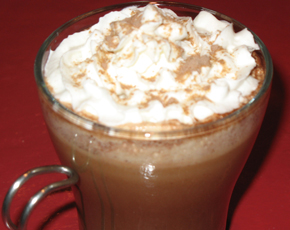 At our house, it goes without saying that spiked drinks must accompany holiday festivities. So, when we trim our tree, I always want a nice hot something to really get us in the winter mood (well, as winter as Georgia will allow). A few years back while on vacation in Breckenridge, we tasted a drink called German Chocolate Cake. Not only is it the perfect hot toddy to complement tree trimming, frankly, it's the sole reason to have Malibu rum in your liquor cabinet (otherwise, ick)! It's also one of the few times I can condone not whipping your own cream…the high-pressure crazy-can stuff just tastes better in this (otherwise, again, double ick. Seriously).
German Chocolate Cake
8 oz. hot chocolate (For you overachievers, go ahead and make the real thing from real chocolate – but if you think just trimming the tree is effort enough and want to get your drink on already, use a good quality mix. I'm not saying you need to rival Serendipity chocolate here, but no Hershey's or Nestlé's Quick – after all you're not 8.)
Whipped cream to top (As much as your mug can handle.)