October 15, 2013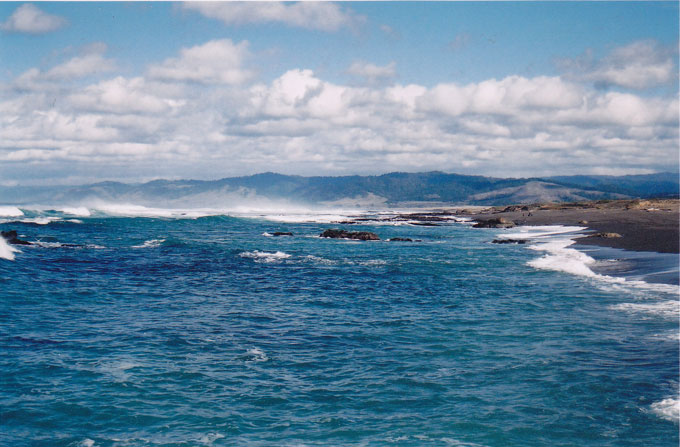 I was 11 when REM's album, Document released. My older sister, Susan, had it on cassette and I'd borrow it, replaying it over and over and over again. From that moment, I was a devotee. Later, when my teenaged girlfriends became obsessed with New Kids on the Block, I was still hanging on every word from what I thought was the most sincere, handsome, and smart fellow ever imagined from Athens, Ga. A man named Michael Stipe.
REM is the one band that seemingly appears out of nowhere with a song or album release (well, not since September 2011) when I've reached pivotal moments in my life. Rolling Stone magazine covers featuring the foursome followed me to every dorm room and college apartment. I used several lyrics to their song, Leaving New York in the goodbye email to the CNN staff I was leaving behind. I thought I was so clever with both the television reference of, I saw the light fading out, and the fact that my show was based out of New York.
And now.
I'm ready to Walk Unafraid.
Yesterday marked the five-year anniversary of my first danapop post. It was an article titled, The Sunshine in my Mind. I wrote about this portal being my slice of something worthwhile and meaningful. It's been all of that. And more. Danapop readers followed me through tough times like Dan's job loss and my mother's bout with cancer. And happy times like Margaret's birth and creative times like discovering a new designer. And funny times like my bikini busting at the seams. And recaps of amazing trips I've taken.
But, here's the thing, my offline life is the slice of something worthwhile and meaningful. A couple of weeks ago I took time away from danapop postings to try out how I felt without this space.
The truth: I didn't miss it. I need to listen to that.
I blogged for a long time because I wanted to. Needed to, even. Now, I realize I blog because I think I'm supposed to. I don't like to live my life with what's expected. I accomplished everything and more than I ever set out in this space. And I'm so very grateful to have gained readers along the way. I'm proud of the work I've done here. I've interviewed great people. I mean, I could've called it a day the morning I had Judd Apatow RT a dp piece! But at this moment, it does feel right to stop.
In the coming weeks danapop.com begins the transition into a more professional space with my writing and editing skills as the main focus and the blog secondary. That's not to say I won't share a Spotify playlist, killer recipe, travel inspiration, or anecdote about my family sometime. But, for now, it's time to just be.
A hearty thank you for allowing this space to be my creative haven for the past five years.

Editor's note: This photo is from Mendocino, Calif., the same beach as first image ever posted on danapop. And that's how I feel – the view is the same, but the angle has changed.

September 20, 2013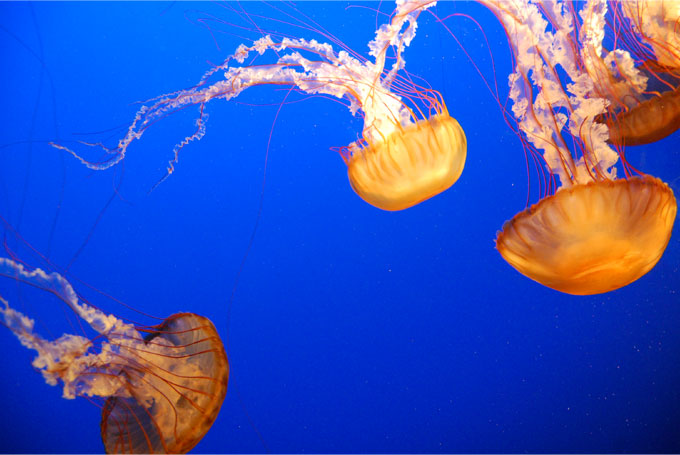 Did you know a group of jellyfish is sometimes called a bloom? I like that. It makes me think that when we collaborate or are around one another we're in bloom.
I've had a lot floating around in my head lately and feel the need to reconnect, so I'm taking a breather this week from danapop.
I need to be in bloom. See you next Friday!

September 10, 2013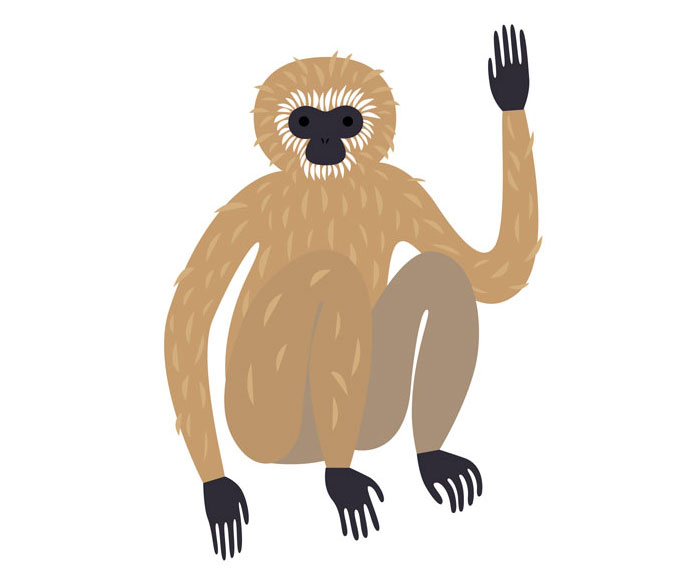 I'm a thinker. Correction: I'm an over-thinker. I overanalyze, dissect thoughts and actions, and replay scenarios that have both happened or are on the verge of happening over and over in my mind. This is the simple way of saying I have a monkey mind. Daniel Smith writes all about this notion in his book, Monkey Mind: A Memoir of Anxiety. Like him, I've found my own prescription to aid in the broken record that sometimes plagues my thoughts. For me, a steady diet of yoga and meditation works wonders for my well-being. Both calm and allow me to think of present tense to help me live a life with deeper connections. In short, it helps me not sweat the small stuff.
But, there are things, currently—big things—that are keeping me awake at night. And so I thought, maybe these things are keeping you up too?
I'm worried about my job, specifically its security. Most of my peers roughly between 2008-now either have been laid off themselves or know someone who has, allowing an influx of freelance workers, much like myself. I'm a member of what is dubbed the creative class; this niche group of folks enjoys the benefits of a flexible schedule but the downsides of being contract (no benefits, month-to-month variances in income, highly competitive market) might be tipping the scale to just go back to work full-time.
Education worries me, not for myself, but my daughter. I live in a city that is currently sifting through the baggage of the public school's cheating scandal, the largest in our nation's history. Not a fine moment for either Atlanta or public schools in general. Am I wrong to hope that my child gets a better public education than I got (or at least comparable to) in Leavenworth, Kansas?
This fear monger world we live in has me terrified of the food we put into our bodies. Even what you think is healthy isn't safe anymore. I just want to eat natural, pure food that doesn't require an entire paycheck for wholesome stuff.
While we're on health, I lose sleep over the fact that my twin sister doesn't have health insurance. On to childcare … huge chunks of my paycheck goes to ensure Margaret is not just passed from swing to play mat as a form of care giving. It's a bit overwhelming. And lastly, war. Not should we or shouldn't we, but what are we doing for those who've fought and are now returning home. Because as best as I can tell they have more mental injuries than we know what to do with as a country.
So, that's my monkey mind of the moment. Job security, healthcare, childcare, food systems in the U.S., education, the cost of war, you know, teeny problems. I wish I had a solution to calm these stressors in my head. Hopefully, soon, there will be some peace all around.
Image: Courtesy of Laura Edelbacher
August 27, 2013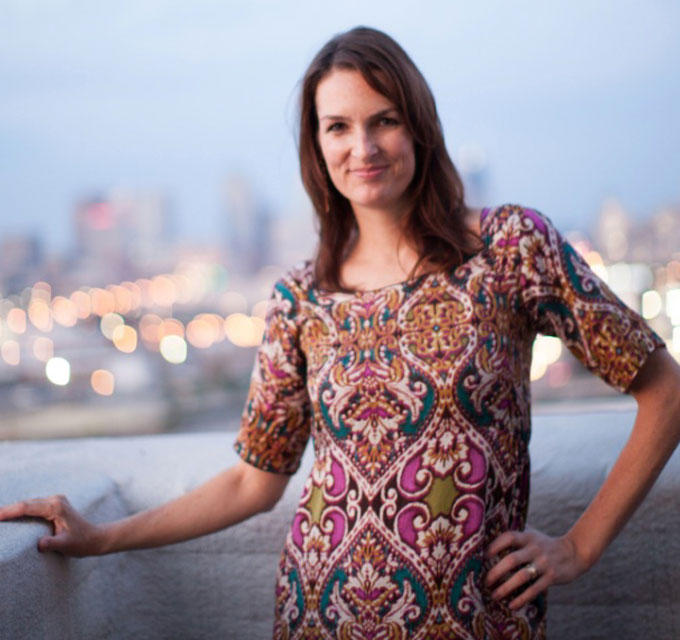 I adore Amy Flurry and if there was ever someone whose career (and life!) I'd like to emulate it's hers. She juggles an enviable editorial roster, is a creative genius with edgy side projects, and runs a successful consulting business based off her book, Recipe for Press.
I've interviewed Flurry several times for her gorgeous work with Paper-Cut-Project, but truly came to know her after Recipe for Press, published. Full disclosure, we share the same book publisher because I sought her out after reading it. I love everything about Recipe for Press, but mostly it's because of its content and practical applications to small business. (Not to mention the stylish design aesthetic and user-friendly layout.) I'm thrilled to talk career progression, unplugging, and the business of branding with the supremely smart, Amy Flurry.
danapop: How much do you think social media influences a company and how do you suggest your clients (and practitioners of Recipe for Press) balance an online presence with growing their business?
Amy Flurry: Social media is an incredible tool for businesses of all sizes, but for small operations or startups it is possibly even more valuable. For starters, it's free, but what's not free is the time you must invest in it, and that's generally the hangup for small businesses. Eventually a company has to come around to seeing how important communications is for their business, whether it's in building relationships with editors or trust with their customer. I help entrepreneurs learn to think like an editor, because they are, first and foremost, editors of their own brand. This also plays heavily into how successful a company will be with social media.
dp: I know you do consulting work with great brands (like the amazing Katharine Kidd), what do you look for when working with a client? Is there a universal need most of them are seeking?
AF: I do work with great brands and if there was a common thread among the best of them it's that they've all put effort into a strong visual brand identity. They simply lack confidence in the correct way to share their story with editors and bloggers–and this may range from basic questions like how to find the right editor to pitch, whether they should send an attachment or even how long a pitch should be. Once they attend a workshop or read the book and get the basic foundation, many realize they need extra help developing a long-term media strategy. For those clients who are still in the development stage or who simply want an editors eye on their brand to tell them what's keeping them from getting press, the more universal need is better product shots and portraits.
dp: I know your babies aren't exactly babies any longer and you're in the throws of back-to-school and homework, but how do you adapt to each stage of motherhood against career progression?
AF: My work has adapted to different stages in life. Even before we had children, I chose to freelance because my husband and I were traveling and housesitting (he's a novelist and I was working to build a portfolio) and my work was nourished by experiences of living in the south of France, on Martha's Vineyard and in Athens, Georgia. When kids came into the picture, I discovered a new kind of flexibility in freelancing and shifted my work hours around and that worked for me for some time. Now that they're in school, I need more consistent office hours (and more sleep). I won't pretend that I've ever struck a perfect balance between the two. Life is short. Kids grow up fast. The work I've created is exciting. I approach my personal life and professional with an intensity that lets those I know they're loved or that I love what I do.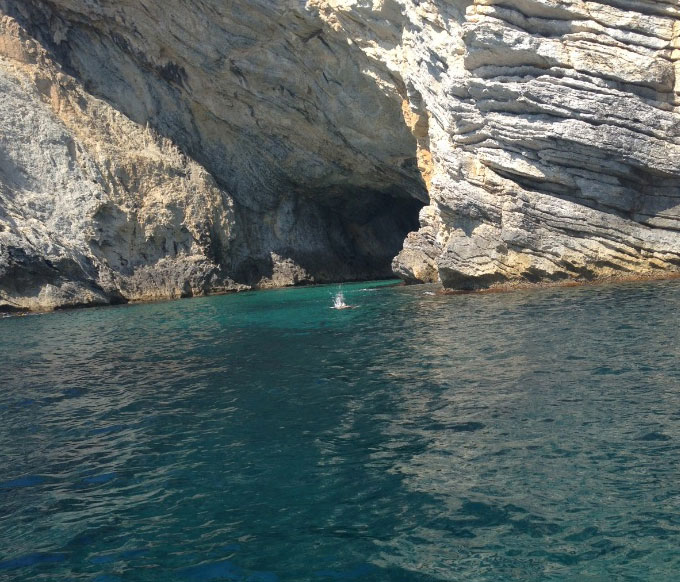 dp: You recently went to Mallorca for a month – how did disconnecting help your business?
AF: Of course when you run the show, disconnecting is never easy, but it's a healthy exercise because you establish space between you and the business that is hard to come by otherwise. With a little distance you gain fresh perspective; you can easily identify what's working well and the other things that are a drag on your energy or business. You also remember that picking up a good book and finishing it or catching up on sleep or trying your hand at a new language are equally vital and valuable to your business and well being and so this "time off" becomes more important than ever to claim, for you, your family and your business.
dp: If you were to tell new business owners one thing they could do to get their brand out there, what would it be?
AF: Put a priority on great photography (I devoted an entire chapter to this in my book, The Power of the Picture). It's the single most important component in communicating your brand to today's media influencers (and they have the ability to share your brand with a really large audiences).
dp: Most small business owners (myself included) often feel like an island, wearing multiple hats; how helpful is networking and collaboration?
AF: Networking (whether it's attending a conference or workshop or partnering with a peer on a project) is important because you simply cannot do everything all by yourself and be effective. It's very helpful when other experts share what they've learned along the way. It saves time. Not only that, things happen when you make the effort to show up. Friendships are made, new partnerships are forged. As corny as it sounds the results can be profound.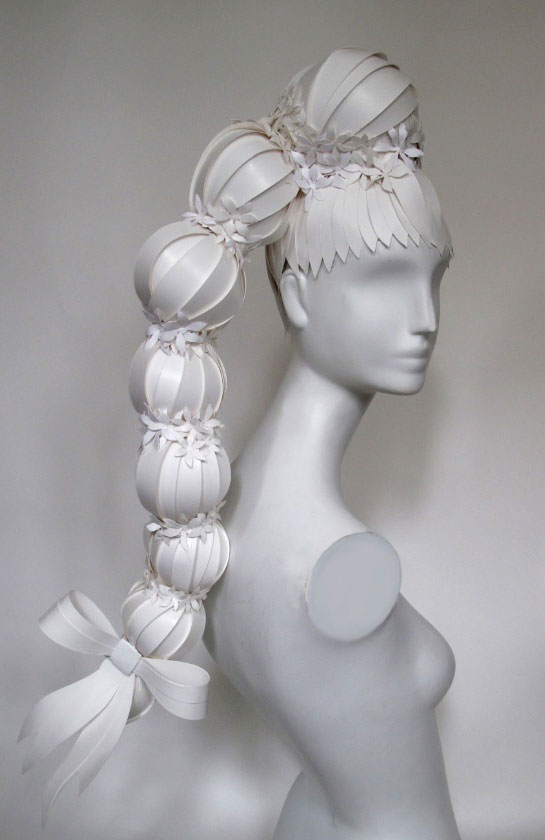 dp: You seem to have a constant flow of multiple projects (Paper Cut, editorial work, consulting) how do you prioritize them all?
AF: Having transitioned from a full-time freelance career as an editor and freelance writer to an artist and entrepreneur only three years ago, I still feel new at many parts of entrepreneurship. There's no one-size-fits-all guidebook. But the travel and time away this past summer afforded me the time to think on how I could streamline my daily activities and get the most out of them. I now work on Paper-Cut-Project in the morning, using that time also as my moment to check in with my family or friends on my speakerphone. I chat and cut or just enjoy the quiet of the morning. I am also trying to eliminate a terrible habit: haphazardly checking emails or looking at Facebook or Twitter. There are so many tools that help you get the most out of the social media outlets without having to be a victim!
dp: What's next for you?
AF: Recipe for Press has a new initiative in the works (videos and continued support my clients have been requesting). I'm looking forward to speaking at Spoonflower's HQ in Durham, NC in September. I'm also excited about high school basketball season!
Headshot Image: Courtesy of Sara Rose Photography
Christie's Elizabeth Taylor Auction/Exhibition Image: Courtesy of Paper-Cut-Project
July 23, 2013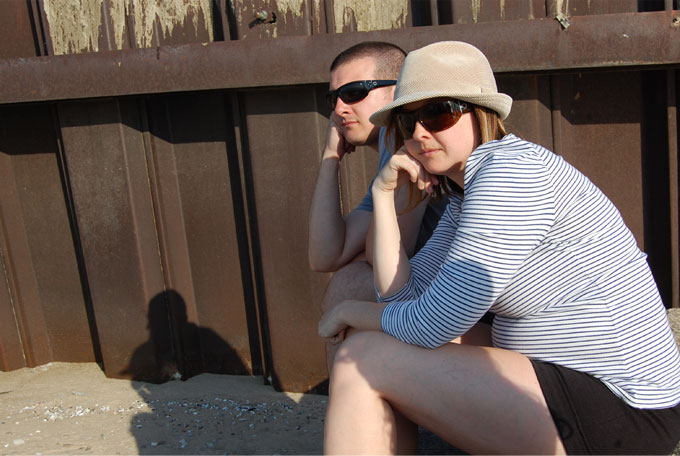 I recently saw Judd Apatow's movie, This is 40. Realistically it could be called, This is Depressing because it's such a downer of a movie. There are some funny moments, yes, but truly, these people seem to hate each others' guts. It got me thinking about marriage and relationships past the honeymoon stage. Better yet, the my-husband-watched-me-give-birth and I've-held-a-plastic-bedpan-for-him-to-pass-a-kidney-stone … that stage.
I started examining my own relationship, which is in the category I just described. I do see how it happens (like in the movie) couples slowly growing apart or knowing each other so well that the tolerance level dwindles. Believe me, there have been moments in my marriage where I'll look at Dan like I cannot believe what is coming out of his mouth. He gives the same disbelieving look to me. I've seen it more often than I care to admit and chose to ignore. It's that moment, at dinner with another couple, when they argue over whether it was October or November when they last vacationed. The wife sternly says it was definitely after Halloween and the husband is frantically checking his iPhone to prove her wrong. You think the whole table has moved on and suddenly he's showing people the weekend of October 27 with Hilton Head blocked off on his iCal. Boom. See. I was right. He was, but does it matter? Does it really matter?
We know this though, it's when you lock eyes with your spouse and exchange a knowing look and think, thank goodness we're not that couple. Like you two have it all figured out. In relationships, particularly long-term ones, it does matter. There are unwritten running tallies of expectations constantly being met and not met. Is this what marriage is? Is this my marriage? I look at relationships I grew up with to wrap my head around it a bit. My own mother didn't wear makeup until after my father died. Is it because he liked it that way? Or did she evolve into something else after he was gone? Was there something in her she suppressed when he was alive, or did she just grow after he was gone? That is a simplistic example. But in our need to be right, is it about biting our tongue to let our partner win? Suppressing who we are?
Is that the trade off? The yin and yang of relationships where between the tenderness and expected moments of good comes expected moments of annoyance, arrogance and our own constant struggles with always having to be right? It's that Dan gives my leg a squeeze when we're tucked together on the couch when the good part of a movie comes on screen. I didn't get that squeeze with, This is 40. We both looked in the mirror that night disgusted with what we didn't want to become.
Image: Dan and I mirroring each other without even realizing it while on vacation. I should add (for vanity's sake) I was five months pregnant in this photo and not just vacation-eating while sporting elastic waistband shorts.

July 9, 2013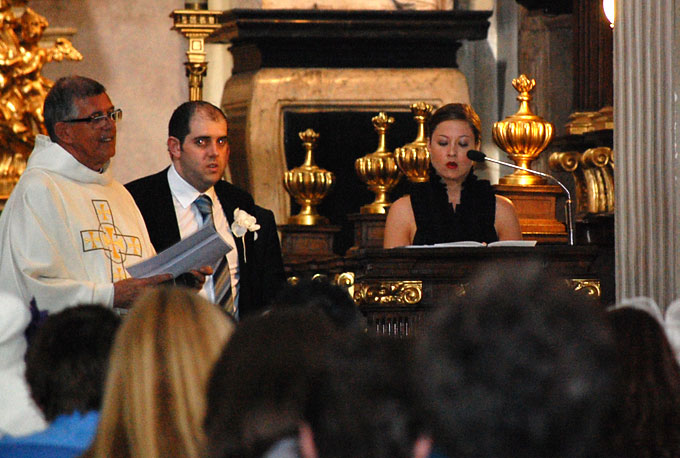 I don't fear a lot of things, but two things I do are the most common: public speaking and riding in an elevator. I'm not quite certain where the elevator one stems, it's absolutely the fear of getting trapped more than a space-issue, but from what I can remember, I've had it my entire life.
As for public speaking, there's nothing I dread more than talking in front of a crowd. One-on-one I can hold my own. Group settings like parties, (even when I only know one person in the room) I'm perfectly fine. But, the second I have to stand up and address a crowd, even if it's just a simple name, what you do for a living situation, I clam up. My throat gets dry, my belly does flip-flops, my palms sweat and my breathing changes to a much more rapid pace.
I've never had a bad public speaking experience per se, but I just always dread it. My brother got married when I was a freshman in college and he asked me to give a reading – anything I wanted (I took the road most traveled by way of Corinthians) – to which I tried to make myself pass out beforehand by locking my knees. I was so nervous just waiting for my long walk up to the podium for my part in the ceremony.
Years later, at my father's funeral service, all four of us children gave eulogies, the whole time before my turn I wasn't thinking of the finality of this moment, but how nervous I was about reading what I summed up of my father's life that fit typed out a single sheet of paper. The corresponding photo is me giving a reading at one of my best friend's wedding a couple of years ago; I rehearsed my short verse over and over on the six-hour plane ride to Europe.
I tell you all of this because last month, I took a long, hard look at my business, danapop, LLC, and the model I've used since launching in 2008, deciding that it's stale. I've reworked my model, adding pillars to my writing business and brand I never knew existed, included a new element I'm particularly excited about; danapop Presents, an in-person events series.
For danapop Presents, I will be using a lot of what I'm great at … planning, using my network of smart women, curating a fantastic event, but also it will put me in the role of moderator, which I'm already nervous about. But, that's the point, I suppose, especially when owning your own business – to push yourself and grow beyond your wildest expectations. Or better yet, beyond your own limitations.
I remember when I ran that half marathon back in 2009, I was terrified of it (not for fear of incompletion, but more for all that head space and isolation in training) and that process really made me wonder how many other things in my life do I hold back on because I'm scared to do it? Walking the stairs in lieu of an elevator ride is one thing, but not using your voice because you're worried about what might come out is an all-together different issue. I personally don't want to live my life in fear of things, or even worse, in fear of myself.
On top of that, it's my job to be the example for my daughter and myself. This year, I'm getting over that barricade that's been there most of my life. While I'm still flushing ideas out and solidifying the setup, spring 2014 will play host to the first danapop Presents. Here's to getting out of comfort zones and being fearless!
April 23, 2013
Ever since I moved to Atlanta (almost 13 years ago), Stacy has lived here, having moved herself just the year before. We met the first summer I arrived and have been dear friends ever since. There are so many reasons we were destined to meet (out of all the apartment complexes in the city, her older brother and I lived in the same one in neighboring buildings, we both worked for different divisions of the same company), but we met through a mutual friend, my one friend I had when I moved here that I'd known since high school, who also knew Stacy's aunt.
We met when I was single, still had a dad alive, worked at an entry-level position at CNN, lived in an awful apartment outside the perimeter; she also single, a junior-level publicist at Cartoon Network, living with a roommate, driving a Toyota Corolla. And now here we sit—me, with my own company, a house, a husband, dog, and baby. Her, with her longtime boyfriend, Sean, making it as far up the company ladder at Turner as one could ever possibly hope (it doesn't hurt that she's a marketing genius), living in a loft in the heart of the city.
Up until last week that had been the case for as long as I can remember, our lives existing this way. Talking over AIM almost daily, meeting up almost weekly for drinks, a walk, or dinner. Yesterday, she started a job in NYC and she and Sean moved over the weekend. My avoiding going out for that last drink didn't change the fact that they left. My, being busy on the computer when Sean came by with a truck to collect the furniture out of our attic we've been storing for them didn't stop them from getting on that plane. They still signed the lease on the apartment in Chelsea even though I am struggling to process what it fully means to live in this city without them here, and that I can't drive by their old apartment without crying.
Honestly, Stacy is the best friend I've ever had in my lifetime, more like a sister than a friend. From tennis partners, to yoga buds, to pedicures, dinner parties, concerts, conversations ranging from gossiping about our hairstylist to strategic career moves, and just about anything else close girlfriends can share – you name it, we've discussed it (at length, often over wine).
Things seem fleeting right now with them moving. Like time has passed and various people we love have all come and gone through this city. I don't know what that really means for us, and I don't need to think about it right now. All I can think about is that they aren't here, but I'm trying to be positive and accept this change, because it's very selfish of me to think otherwise. What I haven't said is that it is an incredible move for them. Great job, great city, all the right reasons in the world to leave. Things will change, for certain. But, it doesn't necessarily mean it's a bad thing, this change. For right now though, I can't see that, I just know it's really, really hard.
Stacy's brother Scott (who himself moved from Atlanta to NYC about four years ago), Dan, and I used to joke when Stacy and Sean got together that they could be in their own little world that we all called Steanville, sort of our own little Brangelina couple of the group. Like, Oh, Steanville won't be joining us tonight because they are watching the Wire all weekend. And now, instead of Seacrest, out (a reference we'd all get because we've worked in TV) it's Steanville, out.
April 9, 2013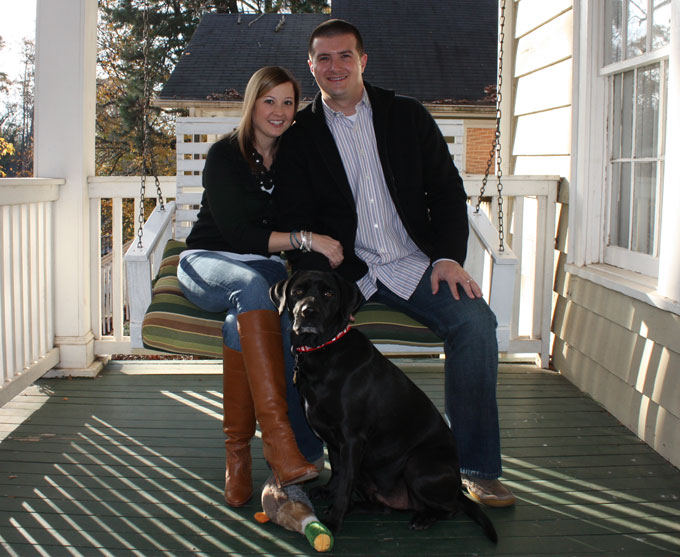 It's so very hard to capture the essence of family in an image. I've always loved this photo of Dan, Otis, and I. It was our holiday card from 2011, and I think I've always liked it because essentially it's just us hanging out at home. Granted we're posed, but it felt very natural, Dan and I laughing on the porch swing, Otis with favorite toy duck, Draper.
It helps when you're married to someone who takes remarkably good photos, and that was one Dan took. That might be the reason why we rarely get professional shots taken. I just feel like they aren't us. Even our wedding photos (which for most people are very posed shots) were done by a very good friend who captured the day more documentary-style than traditional.
But, once I had Margaret it made me want to document things beyond the digital world we live in. So, we jumped at the chance to have my friend Becky take photos of our family. She recently launched her portrait business, 2 Be Photography (she shoots everything from newborns to wedding day) and she captured us perfectly. Somehow, despite my usual kicking-and-screaming about posed photos, Becky made it really fun, even with a hangry (hungry + angry) baby who missed a nap, and a show-off Lab. Plus, she managed to make our house and backyard look really lovely.
I cannot wait to place some of these babies under some cellophane in an actual album for Margaret to sift through, one day, just like I did as a child. I particularly like the ones of sweet Margaret solo, and also, the last image at the end of this piece. It reminds me of those old Ralph Lauren ads — so Americana.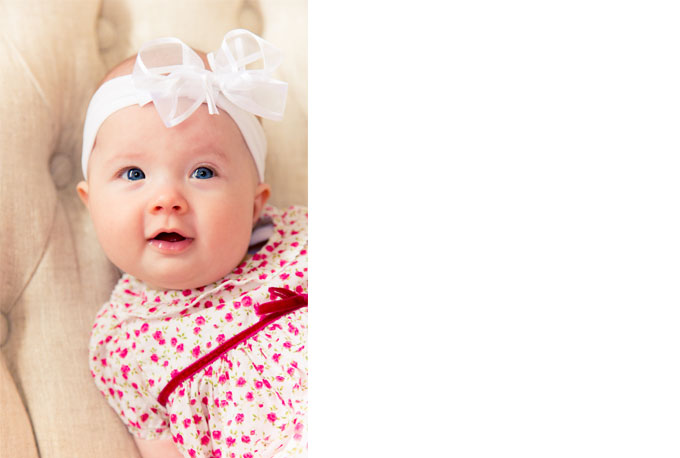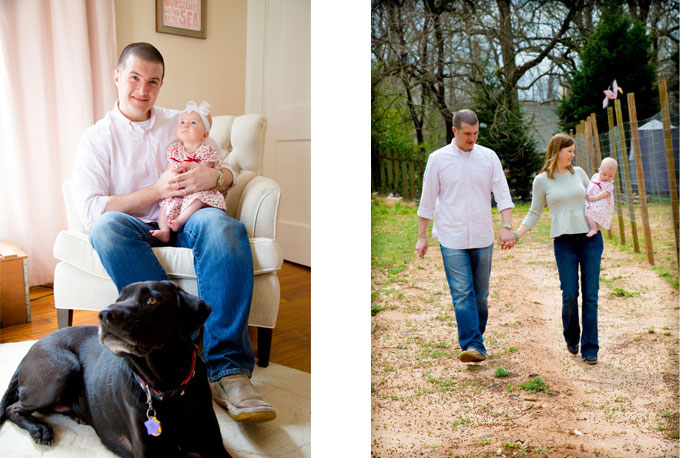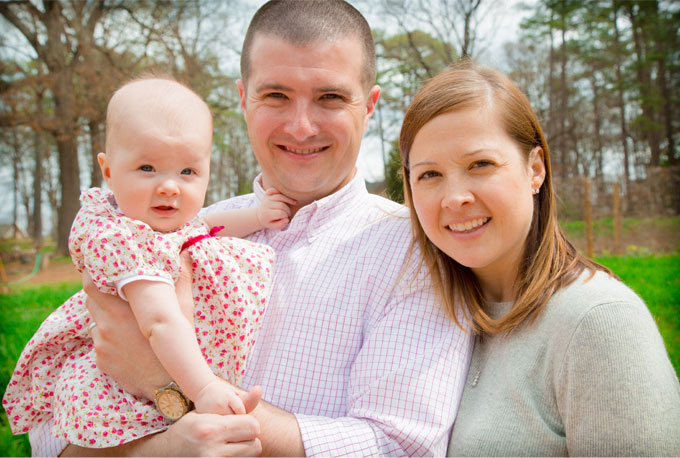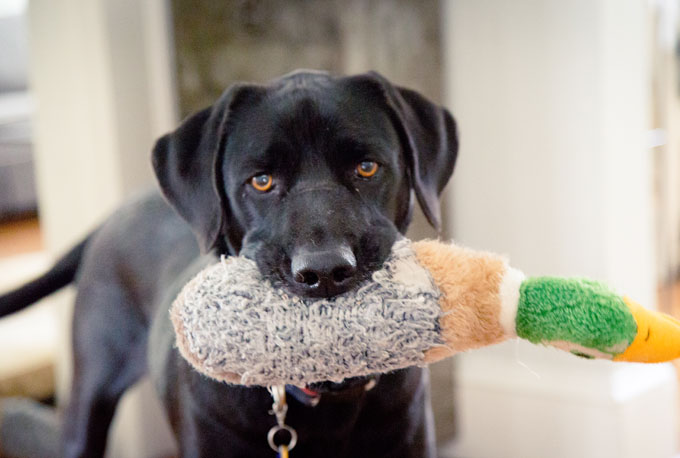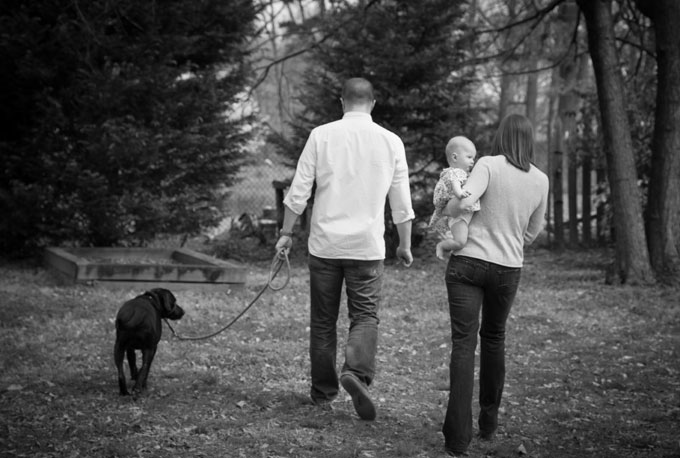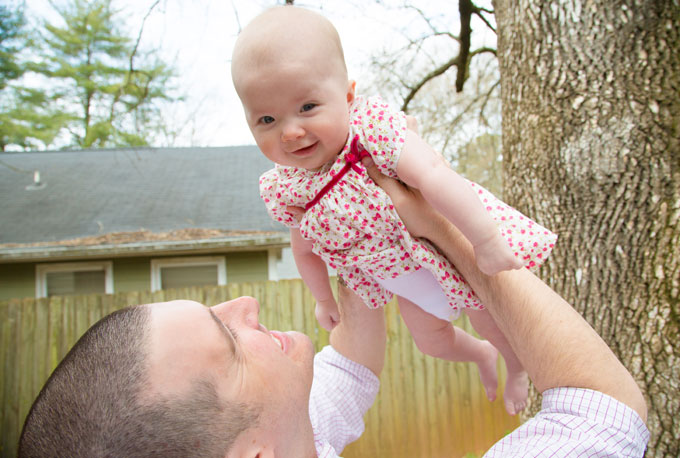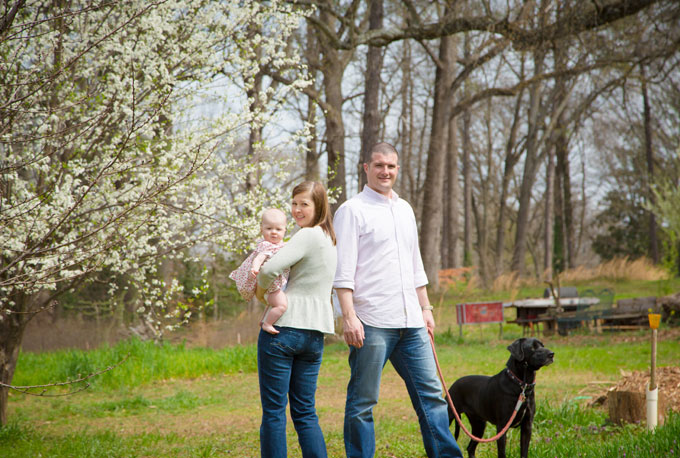 April 2, 2013
The movie The Family Stone gets me bawling each time I watch it. I think it's because my family could be the Stones. The first time I saw the movie, my sister Susan was pregnant with her first child, her daughter Marian, and my mom was just recovering from her first fight against non-Hodgkin's Lymphoma.
The three of us watched that movie in the dark theater, my sister pacing the aisles, totally uncomfortable, just days before Marian's arrival, my mother and I sobbing when the dad crawls in bed with the mom and they discuss her illness. Dan and I watch the movie every year at the holidays and this past Christmas we watched it at mom's house with her and my twin sister, Ann.
All of us decided the reason why we like the Stones so much is that every single one of us kids are one of those characters. Susan is Amy, the sister who grills outsiders. Ann is Ben, the San Fran kid who undoubtedly will miss a flight, but is also the absolute most fun. My brother, David, is Everett to a tee, trying very hard to please everyone involved. And, I, we decided, waffle between Susannah and Thad, the emotional voice of reason.
Whew, that's a lot to live up to.
Image: © 2005 Twentieth Century Fox
March 12, 2013
I try to be as honest as possible in this space, while remaining optimistic. There's enough gloom in the world without another blogger being all woe-is-me about life. I mean, I'm still reeling from this 60 Minutes segment on Clay Hunt a couple Sundays ago. Talk about a tearjerker. I'm not Woody Allen in my everyday life—I tend to be a pretty glass half-full, let's make lemonade, kind of girl. Each and every one of us has our own story with some chapters having more ups than downs, and those are the ones you want to reread.
But, here it is…This. Is. Hard. This being the adjustment I'm currently experiencing as a working parent. Make no mistake, Margaret was very wanted, and we went to great lengths to have her, so this isn't about my love for my daughter, or how much my life has changed since she arrived. I love her more than words could ever fully do the topic justice. Most of the time is, in fact, playing and taking adorable Instagram photos, reading, and walks in the park. Don't get me wrong, it is work, raising our daughter. But, here's where it gets very tricky—it's not the same as the work I've been doing since I was a kid. This is a very different kind of thing altogether. I've always had a job. Whether it was helping my parents work on the building that would eventually become our home, to later helping them in their property management company, or lifeguarding; I've held a steady job since I was 15.
The topic of work/life balance is timeless and several women are making the subject a full-on debate, like Sheryl Sandberg with her Lean In approach, or Marissa Mayer and Anne-Marie Slaugher's black and white takes. For me, it's not as much about the balance (I feel like I'm doing a fairly decent job at being a writer while simultaneously mothering Margaret) as much as what's next? Where do I go from here?
I launched danapop in 2008, and in addition to this site, I've spent the past five years building a writing career of freelance jobs with everything from crafting magazine features to serving corporate clients to ghostwriting book chapters. I spent years fostering relationships with editors at national magazines, putting me on the map as an Atlanta-based freelancer. I felt like I'd done a great job setting my career on a path that would be (dare I say it?) easy once a baby came along.
Back when Margaret was in my belly (as she is in both of these photos), I was at the top of my game, I knew it, and was so very grateful for it. I had a steady, long-term contract position with MSN as their Atlanta contributor for a really great portal called Postbox. Hands down, the best group of folks I've ever worked with, and the job itself challenged me as a writer, making it one of the best jobs I've ever had. Then, MSN decided to give Postbox an Internet burial in September 2012. I took the lack of a contract as a sign to slow down and focus on getting ready for my next role—mother. There was a lot to do, but it was much different than my writing deadlines, which I was much more comfortable with. Between home renovations, prenatal appointments, shopping for baby items, and wrapping up several writing projects, I was plenty busy.
I didn't really think about it then, but I've always had the next job lined up. Before MSN, I was the Atlanta editor of the über-popular, DailyCandy. I seamlessly transition from one position to another, but for the first time in five years, I don't have a steady writing position that provides me enough of a stipend to help contribute to us financially. When I left CNN back in 2005 I was a bit lost as to what the next step in my career would be, and I slowly started to figure it all out. The difference then was that I knew I wanted to write, and I didn't care where. Now, none of it makes much sense. Do I want to work full-time? (How could I possibly leave her?!) Do I want to continue to freelance? (It's incredibly hard to stay in the loop between baby demands, but not impossible.) Do I want to continue working from home? (I cannot imagine going to an office 9-5, but the compartmentalization might help.) I'm not sure what I want anymore, and that's scary to me, this unknown space.
For now, I'm trying to just be. If nothing else in her short life, Margaret has taught me to step back and understand that not all things require our time immediately. What I mean is she requires that, but nothing else really does. I love my baby, dearly. I love being her mother. It's just I don't recognize anything familiar in this role. So, writing for me is as much familiarity as it is my calling in life—because I happen to love what I do.
I feel like I'm growing along with Margaret, as she hit four months last week; the milestone is supposed to be cutting teeth. She'll be gaining a bit of independence with those teeth, with her diet changing soon and developing tastes that are no longer provided only through what I'm eating. That means she's fussy and a drooling machine, neither of which are quite as cute as those little rabbit teeth she'll soon get. So, perhaps we're all in this infancy thing together. I'm trying to figure out what's next in my career, while she's developing and reaching milestones on her own. I suppose I'm cutting my own teeth, making me fussy, temperamental, and trying to figure it all out right alongside her.