Relationships
April 23, 2013
Ever since I moved to Atlanta (almost 13 years ago), Stacy has lived here, having moved herself just the year before. We met the first summer I arrived and have been dear friends ever since. There are so many reasons we were destined to meet (out of all the apartment complexes in the city, her older brother and I lived in the same one in neighboring buildings, we both worked for different divisions of the same company), but we met through a mutual friend, my one friend I had when I moved here that I'd known since high school, who also knew Stacy's aunt.
We met when I was single, still had a dad alive, worked at an entry-level position at CNN, lived in an awful apartment outside the perimeter; she also single, a junior-level publicist at Cartoon Network, living with a roommate, driving a Toyota Corolla. And now here we sit—me, with my own company, a house, a husband, dog, and baby. Her, with her longtime boyfriend, Sean, making it as far up the company ladder at Turner as one could ever possibly hope (it doesn't hurt that she's a marketing genius), living in a loft in the heart of the city.
Up until last week that had been the case for as long as I can remember, our lives existing this way. Talking over AIM almost daily, meeting up almost weekly for drinks, a walk, or dinner. Yesterday, she started a job in NYC and she and Sean moved over the weekend. My avoiding going out for that last drink didn't change the fact that they left. My, being busy on the computer when Sean came by with a truck to collect the furniture out of our attic we've been storing for them didn't stop them from getting on that plane. They still signed the lease on the apartment in Chelsea even though I am struggling to process what it fully means to live in this city without them here, and that I can't drive by their old apartment without crying.
Honestly, Stacy is the best friend I've ever had in my lifetime, more like a sister than a friend. From tennis partners, to yoga buds, to pedicures, dinner parties, concerts, conversations ranging from gossiping about our hairstylist to strategic career moves, and just about anything else close girlfriends can share – you name it, we've discussed it (at length, often over wine).
Things seem fleeting right now with them moving. Like time has passed and various people we love have all come and gone through this city. I don't know what that really means for us, and I don't need to think about it right now. All I can think about is that they aren't here, but I'm trying to be positive and accept this change, because it's very selfish of me to think otherwise. What I haven't said is that it is an incredible move for them. Great job, great city, all the right reasons in the world to leave. Things will change, for certain. But, it doesn't necessarily mean it's a bad thing, this change. For right now though, I can't see that, I just know it's really, really hard.
Stacy's brother Scott (who himself moved from Atlanta to NYC about four years ago), Dan, and I used to joke when Stacy and Sean got together that they could be in their own little world that we all called Steanville, sort of our own little Brangelina couple of the group. Like, Oh, Steanville won't be joining us tonight because they are watching the Wire all weekend. And now, instead of Seacrest, out (a reference we'd all get because we've worked in TV) it's Steanville, out.
you might also like...
April 9, 2013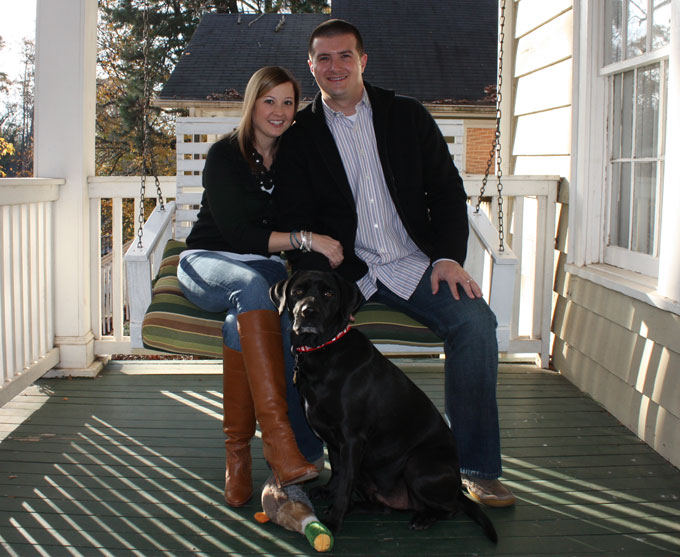 It's so very hard to capture the essence of family in an image. I've always loved this photo of Dan, Otis, and I. It was our holiday card from 2011, and I think I've always liked it because essentially it's just us hanging out at home. Granted we're posed, but it felt very natural, Dan and I laughing on the porch swing, Otis with favorite toy duck, Draper.
It helps when you're married to someone who takes remarkably good photos, and that was one Dan took. That might be the reason why we rarely get professional shots taken. I just feel like they aren't us. Even our wedding photos (which for most people are very posed shots) were done by a very good friend who captured the day more documentary-style than traditional.
But, once I had Margaret it made me want to document things beyond the digital world we live in. So, we jumped at the chance to have my friend Becky take photos of our family. She recently launched her portrait business, 2 Be Photography (she shoots everything from newborns to wedding day) and she captured us perfectly. Somehow, despite my usual kicking-and-screaming about posed photos, Becky made it really fun, even with a hangry (hungry + angry) baby who missed a nap, and a show-off Lab. Plus, she managed to make our house and backyard look really lovely.
I cannot wait to place some of these babies under some cellophane in an actual album for Margaret to sift through, one day, just like I did as a child. I particularly like the ones of sweet Margaret solo, and also, the last image at the end of this piece. It reminds me of those old Ralph Lauren ads — so Americana.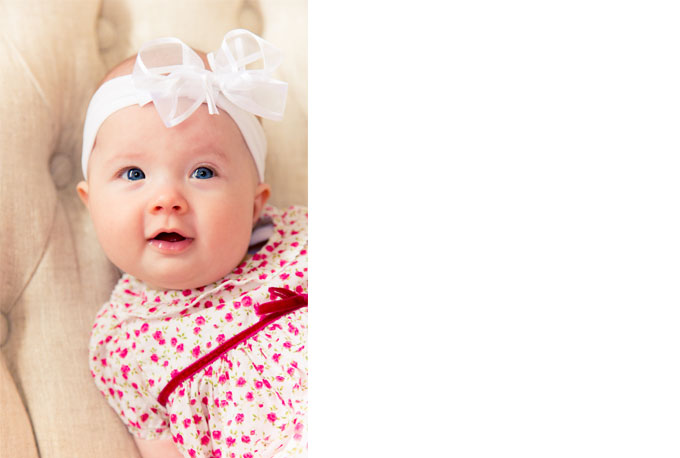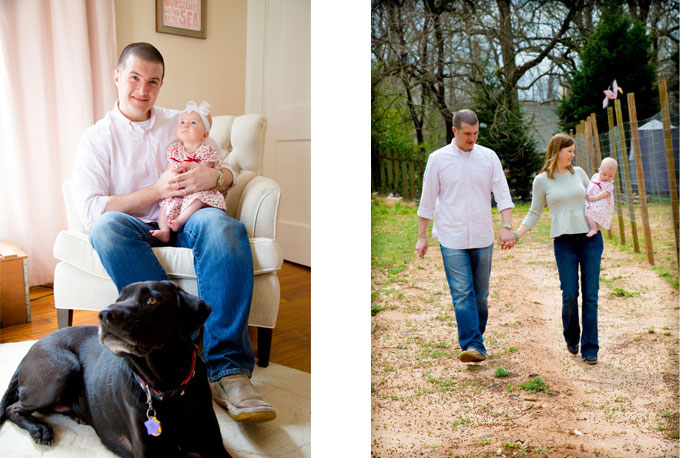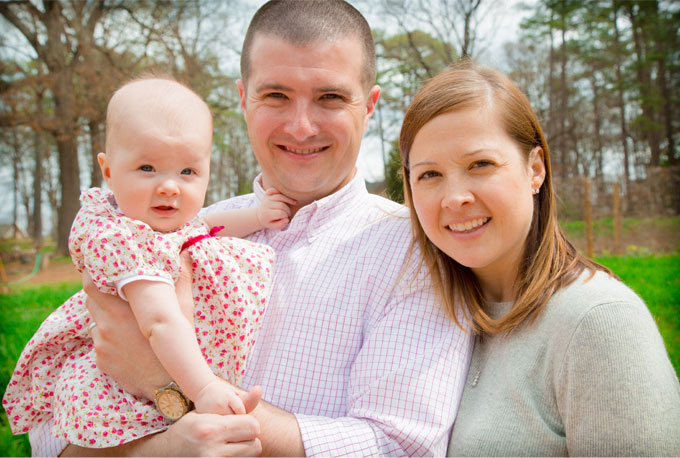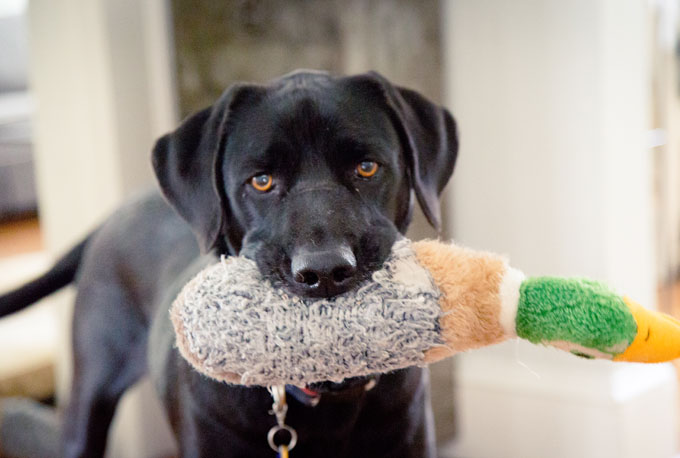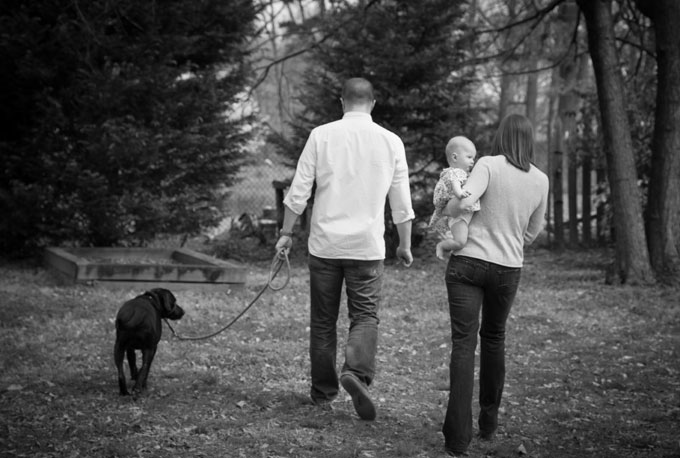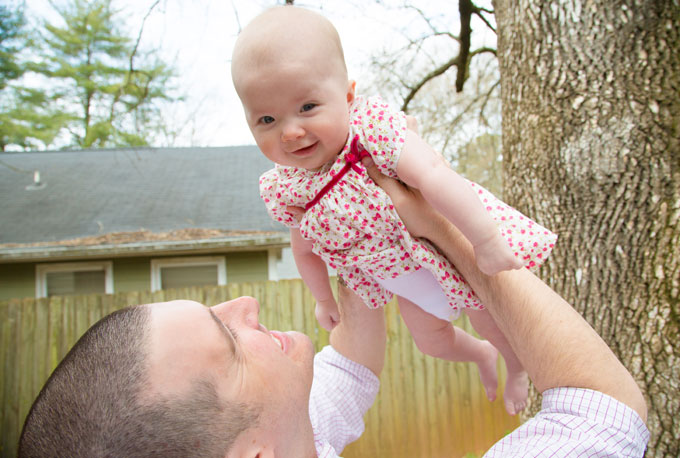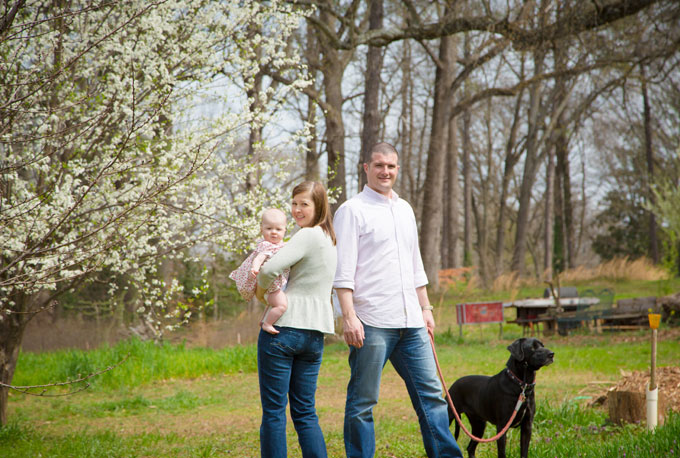 you might also like...
April 2, 2013
The movie The Family Stone gets me bawling each time I watch it. I think it's because my family could be the Stones. The first time I saw the movie, my sister Susan was pregnant with her first child, her daughter Marian, and my mom was just recovering from her first fight against non-Hodgkin's Lymphoma.
The three of us watched that movie in the dark theater, my sister pacing the aisles, totally uncomfortable, just days before Marian's arrival, my mother and I sobbing when the dad crawls in bed with the mom and they discuss her illness. Dan and I watch the movie every year at the holidays and this past Christmas we watched it at mom's house with her and my twin sister, Ann.
All of us decided the reason why we like the Stones so much is that every single one of us kids are one of those characters. Susan is Amy, the sister who grills outsiders. Ann is Ben, the San Fran kid who undoubtedly will miss a flight, but is also the absolute most fun. My brother, David, is Everett to a tee, trying very hard to please everyone involved. And, I, we decided, waffle between Susannah and Thad, the emotional voice of reason.
Whew, that's a lot to live up to.
Image: © 2005 Twentieth Century Fox
you might also like...
March 12, 2013
I try to be as honest as possible in this space, while remaining optimistic. There's enough gloom in the world without another blogger being all woe-is-me about life. I mean, I'm still reeling from this 60 Minutes segment on Clay Hunt a couple Sundays ago. Talk about a tearjerker. I'm not Woody Allen in my everyday life—I tend to be a pretty glass half-full, let's make lemonade, kind of girl. Each and every one of us has our own story with some chapters having more ups than downs, and those are the ones you want to reread.
But, here it is…This. Is. Hard. This being the adjustment I'm currently experiencing as a working parent. Make no mistake, Margaret was very wanted, and we went to great lengths to have her, so this isn't about my love for my daughter, or how much my life has changed since she arrived. I love her more than words could ever fully do the topic justice. Most of the time is, in fact, playing and taking adorable Instagram photos, reading, and walks in the park. Don't get me wrong, it is work, raising our daughter. But, here's where it gets very tricky—it's not the same as the work I've been doing since I was a kid. This is a very different kind of thing altogether. I've always had a job. Whether it was helping my parents work on the building that would eventually become our home, to later helping them in their property management company, or lifeguarding; I've held a steady job since I was 15.
The topic of work/life balance is timeless and several women are making the subject a full-on debate, like Sheryl Sandberg with her Lean In approach, or Marissa Mayer and Anne-Marie Slaugher's black and white takes. For me, it's not as much about the balance (I feel like I'm doing a fairly decent job at being a writer while simultaneously mothering Margaret) as much as what's next? Where do I go from here?
I launched danapop in 2008, and in addition to this site, I've spent the past five years building a writing career of freelance jobs with everything from crafting magazine features to serving corporate clients to ghostwriting book chapters. I spent years fostering relationships with editors at national magazines, putting me on the map as an Atlanta-based freelancer. I felt like I'd done a great job setting my career on a path that would be (dare I say it?) easy once a baby came along.
Back when Margaret was in my belly (as she is in both of these photos), I was at the top of my game, I knew it, and was so very grateful for it. I had a steady, long-term contract position with MSN as their Atlanta contributor for a really great portal called Postbox. Hands down, the best group of folks I've ever worked with, and the job itself challenged me as a writer, making it one of the best jobs I've ever had. Then, MSN decided to give Postbox an Internet burial in September 2012. I took the lack of a contract as a sign to slow down and focus on getting ready for my next role—mother. There was a lot to do, but it was much different than my writing deadlines, which I was much more comfortable with. Between home renovations, prenatal appointments, shopping for baby items, and wrapping up several writing projects, I was plenty busy.
I didn't really think about it then, but I've always had the next job lined up. Before MSN, I was the Atlanta editor of the über-popular, DailyCandy. I seamlessly transition from one position to another, but for the first time in five years, I don't have a steady writing position that provides me enough of a stipend to help contribute to us financially. When I left CNN back in 2005 I was a bit lost as to what the next step in my career would be, and I slowly started to figure it all out. The difference then was that I knew I wanted to write, and I didn't care where. Now, none of it makes much sense. Do I want to work full-time? (How could I possibly leave her?!) Do I want to continue to freelance? (It's incredibly hard to stay in the loop between baby demands, but not impossible.) Do I want to continue working from home? (I cannot imagine going to an office 9-5, but the compartmentalization might help.) I'm not sure what I want anymore, and that's scary to me, this unknown space.
For now, I'm trying to just be. If nothing else in her short life, Margaret has taught me to step back and understand that not all things require our time immediately. What I mean is she requires that, but nothing else really does. I love my baby, dearly. I love being her mother. It's just I don't recognize anything familiar in this role. So, writing for me is as much familiarity as it is my calling in life—because I happen to love what I do.
I feel like I'm growing along with Margaret, as she hit four months last week; the milestone is supposed to be cutting teeth. She'll be gaining a bit of independence with those teeth, with her diet changing soon and developing tastes that are no longer provided only through what I'm eating. That means she's fussy and a drooling machine, neither of which are quite as cute as those little rabbit teeth she'll soon get. So, perhaps we're all in this infancy thing together. I'm trying to figure out what's next in my career, while she's developing and reaching milestones on her own. I suppose I'm cutting my own teeth, making me fussy, temperamental, and trying to figure it all out right alongside her.
you might also like...
February 12, 2013
It's interesting the things you find after someone is long gone. Revisiting that box of letters from an old boyfriend tucked inside a childhood bedroom closet at your parents' house is like visiting another life. Your teenage self, falling in and out of love.
Mine is a more permanent lost and found. It's deeper than the nostalgic first love–it's the loss of a parent, and that feeling of the missing never quite goes away. They say losing a parent, no matter if you're 14, 24, or 64, it changes you significantly and in ways you cannot imagine. You're forced to grow up and deal with something those around you aren't quite equipped to understand (unless they've been through it themselves).
Every so often I'll stumble on a couple of things from my father that will stop me dead in my tracks. Above all, it is his inscription on two reference books I use often for work (yes, sometimes, I actually use books in lieu of Google). One is a soft cover, torn from age and use, military issue word division style manual published in 1984. The inscription reads (in his very recognizable all caps):
3 APR 1986
DEAR DANA.
I HOPE THIS BOOK HELPS, IN SOME SMALL WAY, YOU ACHIVE YOUR DREAMS IN SPACE.
LOVE,
DAD
That was my astronaut phase. Before I realized I was incredibly claustrophobic and needed solid math skill set to do anything pertaining to the sciences.
The other, the hard back Merriam Webster's Collegiate Tenth Edition Dictionary given to me as a stocking stuffer that couldn't quite fit in the stocking one Christmas.
Inside it has Presented to, By, and Date printed by the book manufacture all ready for someone gifting to fill out, which my father did.
Presented to MY LOVELY DANA
MAY THE WORDS AND THE TRUTH ALWAYS COME EASY FOR YOU. YOUR SUCCESS INSPIRES ME!! LOVE, FOREVER DRH
By HER FATHER
Date DECEMBER 25, 1994
Because of this, I always try to take my time when filling out cards or book inscriptions. You never know if these might be the last words someone is left with that they'll reread over and over again.
you might also like...
January 22, 2013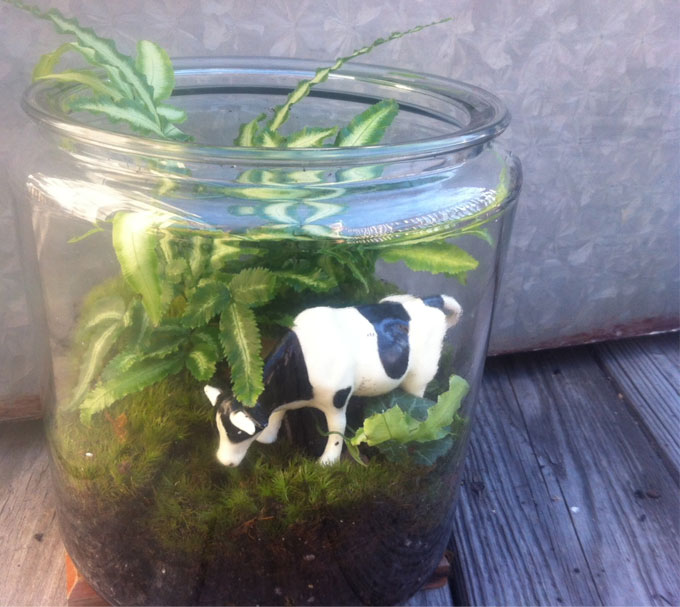 My friend Kenn came up with an incredible concept for Valentine's Day this year. In lieu of tacky grocery store flowers or a box of waxy chocolates, send a terrarium.
He and his friend Alice are making these adorable plant villages in modern vases complete with children's quotes on the tags about love. While the terrariums are so beautiful and alive, the quotes really do add something special. Here are a few:
Love is sloppy … especially when there's some other person involved.
~ Arnold, age 9
Love is like a flower … don't step on it!
~ Marv, age 8
When God saw Miami Beach he fell in love with it. That was the first example of love that is on record.
~Arnold, age 9
If falling in love is anything like learning how to spell, I don't want to do it. It takes too long.
~ Glenn, age 7
Oh my gosh, I'm in love! What will my mother say?
~ Sharon, age 9
Don't forget your sweetie's name … that will mess up the love.
~ Erin, age 8
I'm not rushing into being in love. I'm finding fourth grade hard enough.
~ Regina, age 9
Holding hands is usually a sign that people like each other a lot. Or, it could mean they are afraid that somebody else might flirt with their lover.
~ Christine, age 8
Aren't they fantastic? They are adorably honest (and true!). Here's how to order one of these sweet gifts if you're in the ATL-area.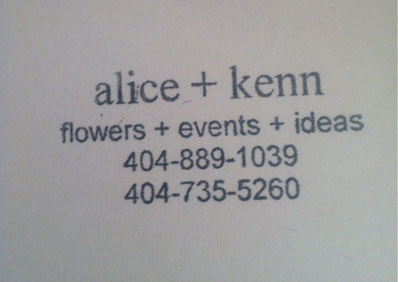 you might also like...
November 15, 2012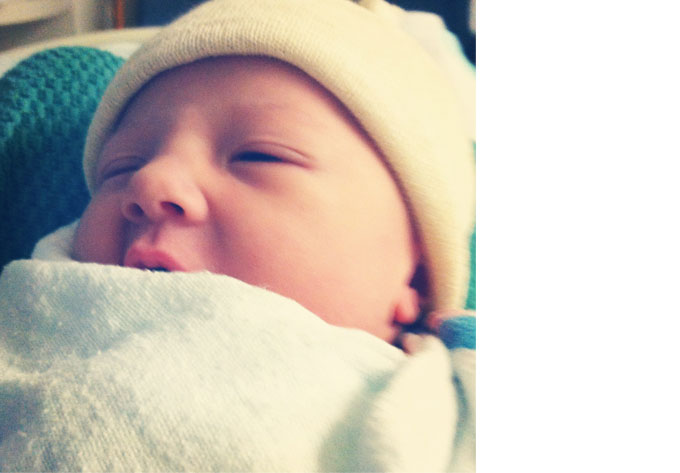 Little Miss Seith arrived and she's absolutely perfect. Dan and I brought our daughter, Margaret Ainsley Seith, into the world on my late maternal grandfather's birthday, November 8, with the help of our extraordinary doula, Kate, the incredible Dr. Knoer, and rockstar nurse, Lucy.
After trying every natural induction technique we'd heard (acupuncture, walking, sex, pedicure with a pressure point foot rub, spicy foods, eggplant) my water broke at 6 a.m. and our little girl arrived just about 12 hours later (three days after my due date). The birthing experience and seeing her for the first time was like nothing I could've ever prepared myself for, both emotionally and physically. Birthing her was no small feat and I joked during the process that if I was of the cave or pioneer times I'm pretty sure childbirth would've taken me out. Modern medicine mixed with natural elements were what worked for me. Eventually I'll write a whole post on my experience (as it was a very positive one), but that is for a later time. As soon as I saw Margaret I was so overwhelmed with emotion I broke down sobbing, repeating, "She's here." Not only that the birth was over, but also that we waited so long for this to happen. All three of us were crying. I will remember that moment for the rest of my life.
Margaret is a name both Dan and I liked early on in my pregnancy. The name is classic and sophisticated, yet can be shortened to be a bit more approachable. When naming her, I couldn't help but think of all the strong women called Margaret—Margaret Thatcher and Margaret Mitchell—to mention two. While I was pregnant we watched The Iron Lady and this line Thatcher is famous for saying clinched it for me:
It used to be about trying to do something. Now it's about trying to be someone.
My hope for our Margaret is to do something, not to try to be someone. Ainsley is a variation of the name Ann, after my twin sister. It's a Scottish name (which is where the maiden Hazels side of me is from) meaning Ann's meadow. We love it.
We're still trying to figure out if she'll settle into being a Mags or Maggie, but for now, she's Margaret and we're absolutely in awe that we made something so miraculous. We're all just getting to know each other and adjusting to our new normal. We're also in complete shock that we're responsible for something other than trying to get the dog to stop eating toilet paper, and we've done such an excellent job with that.
Thank you for all the sweet messages and words of encouragement through it all. Here's to the next adventure!

you might also like...
October 23, 2012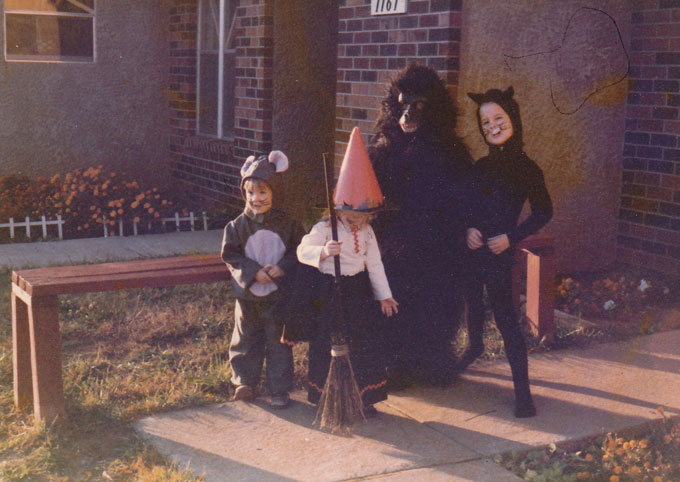 Halloween has always been one of my favorite holidays. As a child I would get so excited for the occasion. But it wasn't really for the candy; for me, it was always about the costume.
Every year my mom sewed our Halloween costumes. And they were the most creative of the bunch—though sometimes, a bit too outside the box. There was the time in second grade my twin sister and I dressed as Laurel and Hardy despite being in two different classrooms and people thinking each of us were Charlie Chaplin. We didn't know who Laurel and Hardy were, and neither did the other kids or even our teachers. That's a costume fail.
Any given Halloween one, of the four of us kids could be a California raisin fashioned out of black garbage bags, a Rubik's cube assembled from a perfectly square cardboard box, a bunch of grapes made out of purple balloons attached to a leotard, or a daisy with poster board acting as petals and my sister's face poking out of the center.
Two of my favorite costumes were when the four of us went as a collective group—a caterpillar made from a green bedsheet in height order with me taking the tail and my older sister (who happened to be taller than my older brother at the time) having the head duty. It was a cumbersome outfit, all of us walking in a straight line all night long, but we got a lot of comments about how we were the best costume anyone had seen.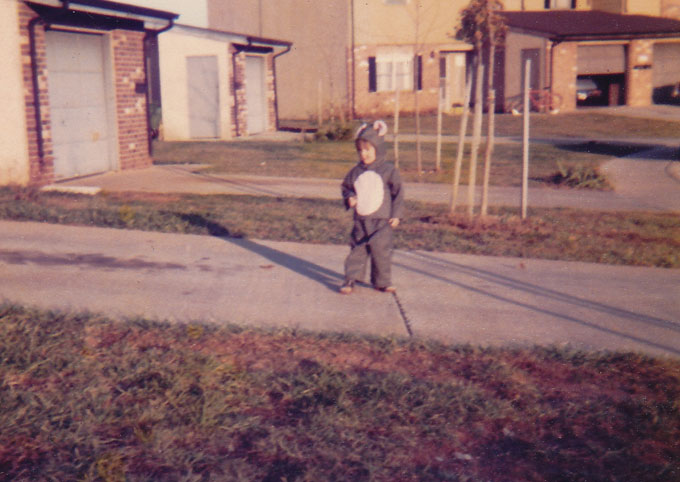 My other favorite—and the story most often told about me within my family—is the infamous mouse costume. When I was about three, my mother made this amazing mouse outfit out of gray sweatsuit material complete with a little pink tummy and an awesome hood with tiny rodent ears. I wore that thing for weeks leading up to Halloween. I loved it so much, and if memory serves, I even slept in it.
In all my excitement though, I managed to make myself sick when October 31 rolled around (it didn't stop me from dressing up and posing for photos). I had to stay back with my mom while she passed out candy to all the revelers, my dad took my brother and sisters trick-or-treating, and my twin sister carried around an extra plastic pumpkin bucket to collect candy for me.
And it's still sort of like that—me, sick from excitement on big occasions. Do you know what you're dressing up as for Halloween this year? I'm betting that Honey Boo Boo costumes will be in full force. Bleh.
For creative inspiration, check out these adorable artsy kiddo costumes … Frida's my favorite. Actually, the entire homemade costume series on ohhappyday.com is fantastic.
you might also like...
October 18, 2012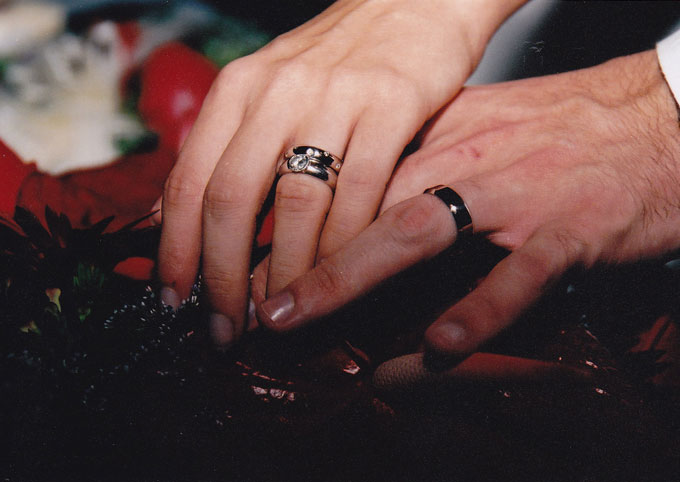 Today is my ninth wedding anniversary.
I remember back when I met my husband, when we were "just friends," dressing up one New Year's Eve with him in mind. A mutual friend used to throw epic NYE parties, and while getting ready I had that wonderful butterfly feeling in my stomach. The flutters you get when you're excited to see someone and wonder when and if they'll show up to the party.
I still remember the exact outfit I wore that night (and not just because there's photographic evidence). It was a fitted pale purple blouse from Urban Outfitters that my mom bought me in SoHo over the holidays, paired with black trousers that zipped in the back. He did show up to the party, and I still smile thinking of how I felt when I saw him walk into the kitchen where I was talking with a friend. Our "just friends" status changed roughly a week after that, and about a year later we were engaged. While I had no clue what sort of wedding I'd want, I did know the type of ring I would want to wear the rest of my life.
A decade later and my engagement ring and wedding band set is my most cherished possession. It was designed by the jeweler my husband's family uses in his hometown of Cincinnati, and it resembles the Tiffany & Co. Étoile collection. It means star in French and it makes me think that anything is possible with love.
We're headed here tonight for dinner. I can't wait to dress up a bit, albeit the clothes this time around won't be as form fitting.
you might also like...
September 11, 2012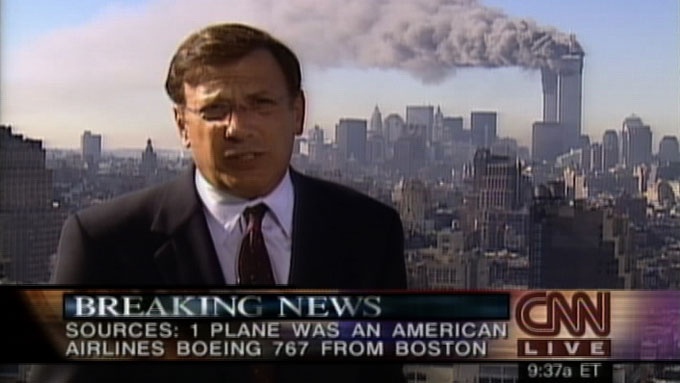 I sometimes miss this life. The newsroom life I left in 2005.
Fact: Veteran newsman Aaron Brown was slated to start a show to premiere January 2002 called, NewsNight with Aaron Brown. Show staff were in the process of being hired (including me) on September 11, 2001. That day, instead, became Aaron Brown's first day on the job in which, according to NPR, he would report the news for 17 hours straight. I have no idea if that's accurate, since I, among hundreds of my colleagues were running around like chickens with our heads cut off just trying to keep up and make sense of the story unfolding on the video feeds around us. Working in the CNN newsroom on September 11, and the days, weeks, and months that followed, was incredibly difficult—the raw footage and images coming into the network haunt me to this day.
My time on the NewsNight staff, which began January 2002, included some of the best work I've ever done in my career. I don't miss it enough to go back. But, damn if this show and this show don't make me a bit nostalgic for those days, and days like today certainly bring it all back.
An aside, the Maggie character on The Newsroom is completely ridiculous. Everything is state of the union with this girl. That's what I call conversations that should realistically be about a sentence and end up being five hours long. The only thing that's marginally believable in this show is that every single one of their personal lives gets interrupted with breaking news. My friend, Michel (who is in the news biz) said it best with a retweet from a Reuters editor, "I look forward to the episode of The Newsroom where they spend 3 hours doing expense reports." Me too, my friend, because that's the reality.
To me, September 11 always seems like a day of reflection. What was lost, how our lives have changed since, and where we're headed. But, usually, in all honesty, ever since September 11, 2001, I don't turn on the television.
Image: Courtesy of CNN/Turner Broadcasting
you might also like...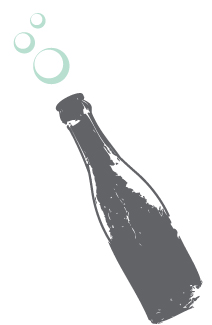 archives